When we heard about the Tadoussac whale-watching tour, I was instantly hooked on the idea, so we quickly made an online reservation. We booked a zodiac excursion and took the trip in July.
The Tadoussac whale watching site is the best in the world, in my opinion, as we had an unforgettable experience.
We slept in the village of Tadoussac before taking a two-hour zodiac whale-watching excursion with Croisières AML the following day. Our reservation was in the morning because we wanted to get back to the hotel early enough to take a shower, just in case we got wet. Here is the complete review of our experience:
Why is Tadoussac one of the best whale-watching sites in the world?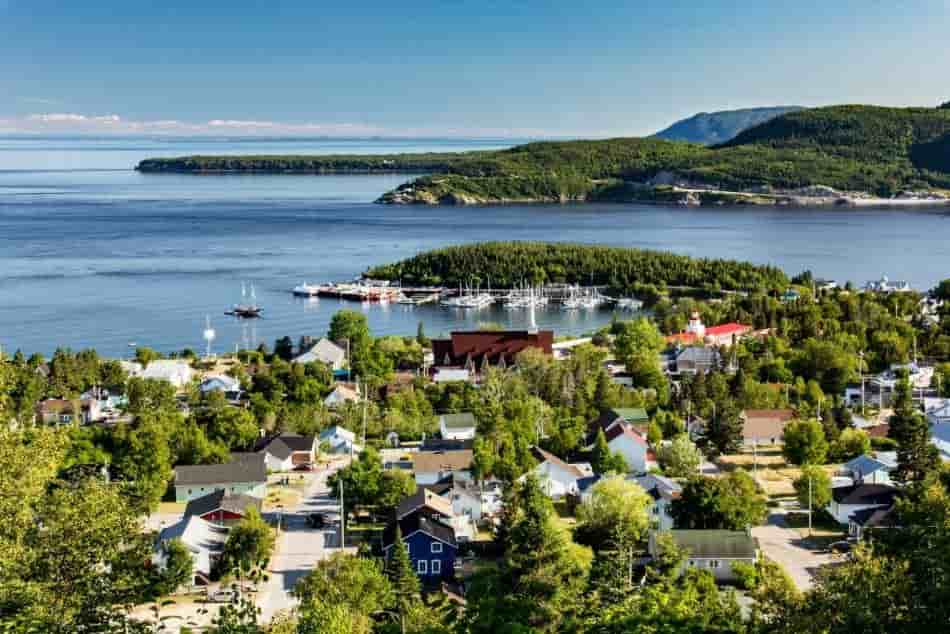 We saw a large variety of whales and other cetaceans living in the salty waters of the St. Lawrence. It was a great privilege for me to interact with 13 of them. We got to see the blue whale, which is the largest animal on the planet and a species that lives in the Saint Lawrence River all year round. The beluga dwells here all year round, without migrating; this makes Tadoussac whale watching the best. Humpbacks swim up right to the mouth of the Saguenay Fjord near Tadoussac to feed. Other species of whales and marine animals that you might see here are the fin whale, minke whale, harbor porpoise, as well as different seals.
The variety of species that live in such a relatively small ecosystem makes the Saint Lawrence River one of the greatest places in the world to observe whales. We enjoyed being part of this ecosystem. We chose the perfect time to travel to Tadoussac for whale watching, which is between May and October. We enjoyed being in this beautiful town, which is located on the northwest shore of the Saint Lawrence River and at the mouth of the Saguenay River.
We were billed CAD165.54 for two adults, all taxes included along with the CAD$2 reservation fee.
Dress code on the boat for whale-watching
We were quite confused when planning for this Tadoussac whale-watching trip in terms of what to bring with us; many considerations came to mind, but we settled on dressing warmly. We chose to do this because the temperature drops as the boat goes further into the ocean, down to a minimum temperature of 10 degrees, even during the summer months. We wore long-sleeved clothing and full-length pants, along with closed-toe shoes.
When you are packing for this trip, don't leave your sunglasses at home because the sun rays will affect your experience. Sunglasses will also protect you from the strong winds, especially when the boat is sailing into the ocean.
Also, you should wear a hat or a beanie.
Cruises AML offered us a windbreaker suit and overalls, but they did not fully protect us from the water.
Zodiac excursion etiquette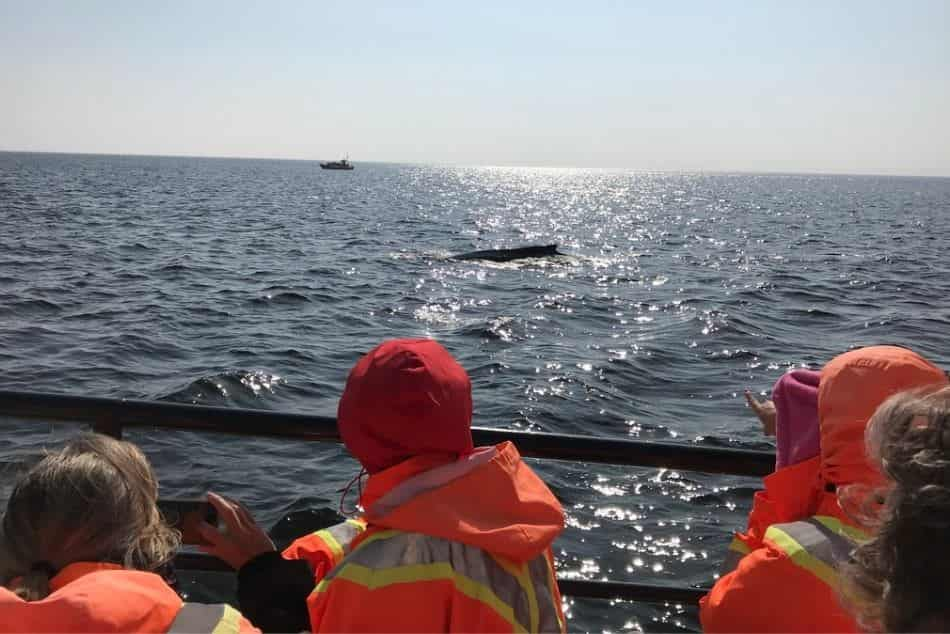 We arrived 30 minutes in advance to check in and board the boat. When we got inside, there were two rows of seating on each side of the boat.
The guide on this Tadoussac whale-watching excursion pointed out the direction of the animals using the method of clock directions. For example, she would say, "Here is a blue whale at your three o'clock. You should try to avoid the urge of jumping into the water. Instead, you should wait for the whale to come up onto your side of the boat."
Once you spot it at the right moment, you should also remain seated so that you give others on the boat a chance to see it. We really enjoyed the trip because of this etiquette that shows respect for others on the Zodiac.
What you should know before planning the whale-watching trip
The Zodiac does not have any bathrooms. Luckily, we did not eat a heavy breakfast or have too much to drink before boarding; otherwise, it could have been a big problem.
Also, it's important to note that there aren't any lockers in which you can keep your belongings during this great Tadoussac whale-watching trip. You'll need to keep your belongings to a minimum in order to avoid losing them and/or not enjoying the trip to the fullest.
If you plan on making this a family trip, you should be advised that babies or children under six years of age aren't allowed to board the Zodiac.
None of us got seasick, but you should consider taking some medication if you have a problem with being away from the shore for long periods of time. There are many brands available, but generally it is recommended to take a seasick pill at least one hour before you board the boat so that you can be ready for any potential nauseous feeling.
These tips are the ones that I would consider essential to enjoy the trip to the fullest and to avoid having any problems.
The experience of having an intimate encounter with the whales
When we got there, we had to check in at the at Croisières AML ticket booth, which is near the pier and Marine Mammal Interpretation Centre.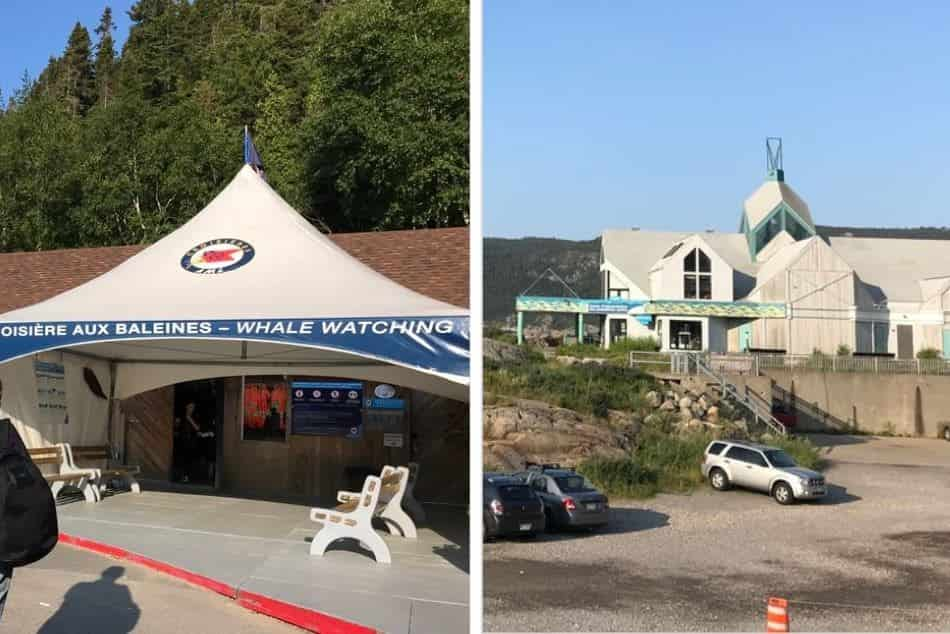 Afterwards, we were offered windbreakers, which were orange in color with a fluorescent yellow stripe; they also gave us overalls, which were designed to be dungarees. They offer you these garments for protection from the elements during the Tadoussac whale-watching excursion.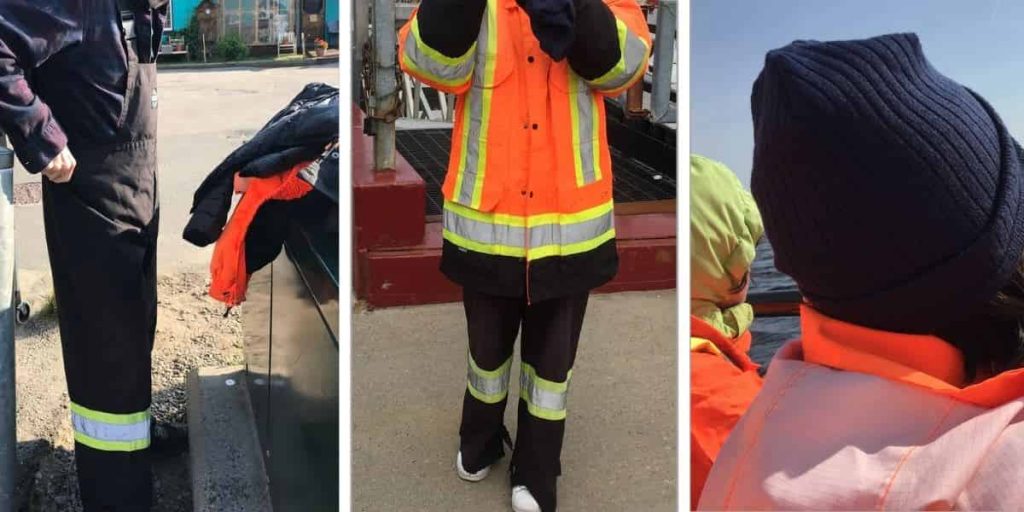 I expected to be offered life jackets before boarding the Zodiac, but to our surprise, they did not provide them; however, they were on the boat.
Then, we boarded the Zodiac, which was sort of an inflatable speed boat that accommodated up to 60 people.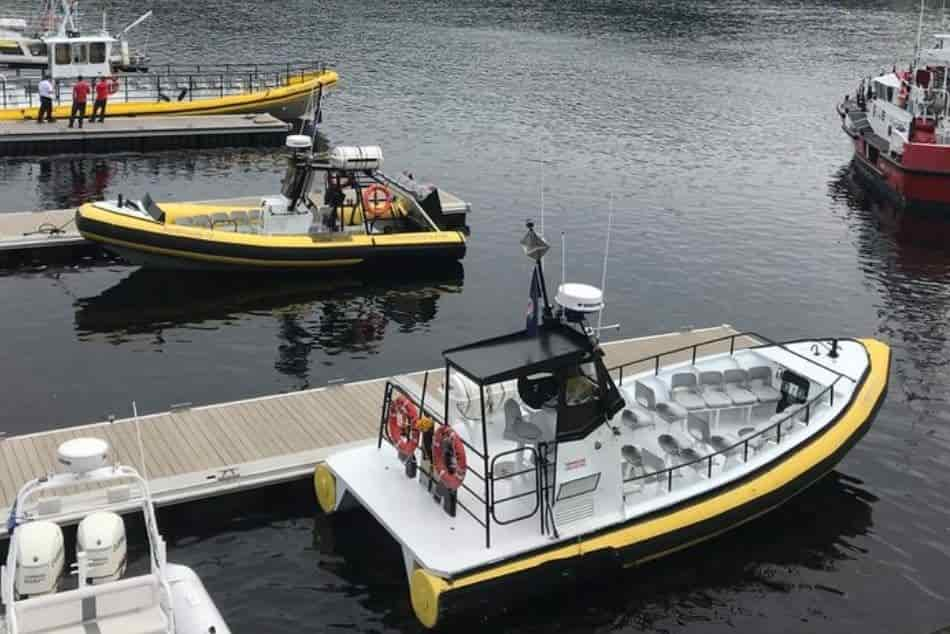 I was skeptical about the whole idea of having an intimate interaction with the whales because I had never seen these unique species of whales before. When I did my research and saw all those whales flipping and jumping in the photos, I thought it could be fake. The first thought that came to mind was that it was all photoshopped for marketing purposes; I didn't believe that whales could come that close to me.
When we were on the Tadoussac whale-watching trip, I saw that my initial beliefs weren't true; the whales were right there in front of me, 10-15 meters (I guess) away from the Zodiac.
The first whale that came up to the sea surface made me think about a torpedo, and it was such an enjoyable experience.
There were other boats in the ocean, about three or four other Zodiacs, but they were smaller than the one we were on. One of these boats had an even closer experience with a whale because it started spraying water about five meters away from it.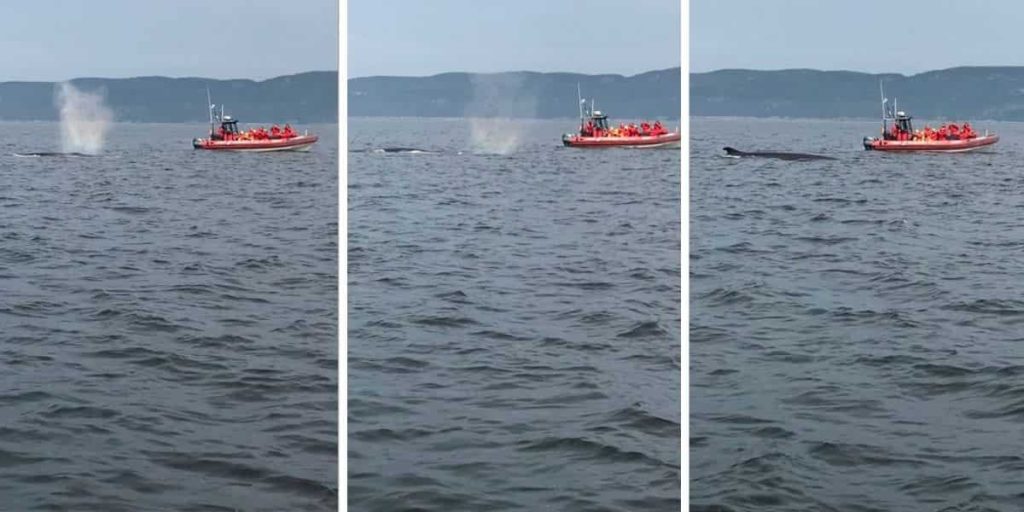 We had to be a little patient, though, for the whales to come. The guide gave us hints while pointing at where they were. If you wanted to see them, you had to listen to these hints and directions very carefully.
Obviously you cannot control the turnout of the whales: they might show up in full force, or they might not. It is unlike an ocean park where you will surely see all of the marine animals that are present.
The number of whales that we saw on that day was around six or seven, and that was for the entire trip. The experience was extremely enjoyable.
Our experience with the captain and the guide on the Zodiac Tadoussac whale-watching trip
On the Zodiac Tadoussac whale-watching trip, we had a captain and a guide who made the experience a great one for us. Both individuals were professional, and what struck us was that they knew exactly where the whales would appear just by listening and observing the sea. These skills helped us know exactly when to keep our fingers on the shutter button of the cameras that we brought. I have no complaints about the personnel who helped us through the entire trip. They made it more fruitful than we thought it could be.
Our guide was a friendly woman who was funny; she explained the tour information in both English and French. Her instructions were clear, and we did not miss out on any of the whales that showed up. There's a lot we learned from her about the largest mammals in the world.
Fun facts about whales that we learnt from our guide
a. Bowing out water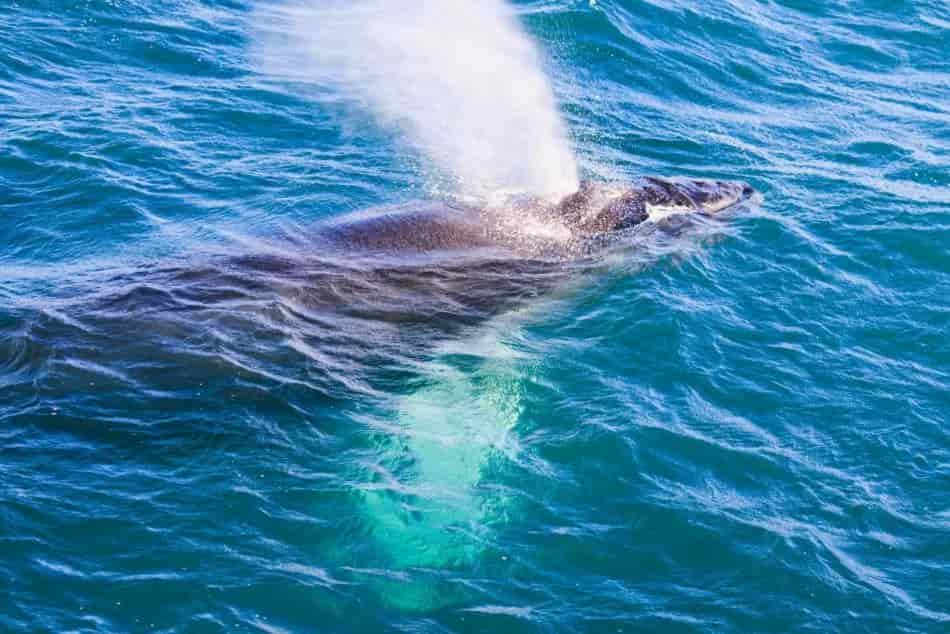 Did you know that whales do not blow out water using their blowholes? Instead, when you see that happening, they are breathing. Whales go up to the surface of the water to get oxygen, and when that air is all used up, they exhale and then inhale again. The used air is warmer than the water on the surface of the sea, and the hot air then heats it before condensing it.
This is what we learned throughout this trip, and the guide could identify the species of the whale by seeing the type of condensation of the water. I did not know that whales have different types of blowholes, but we saw the difference when they exhaled because the water condensation presented itself in different shapes.
We also learned that whales use their fins or tails to communicate with the other whales.
b. Slapping fins or tails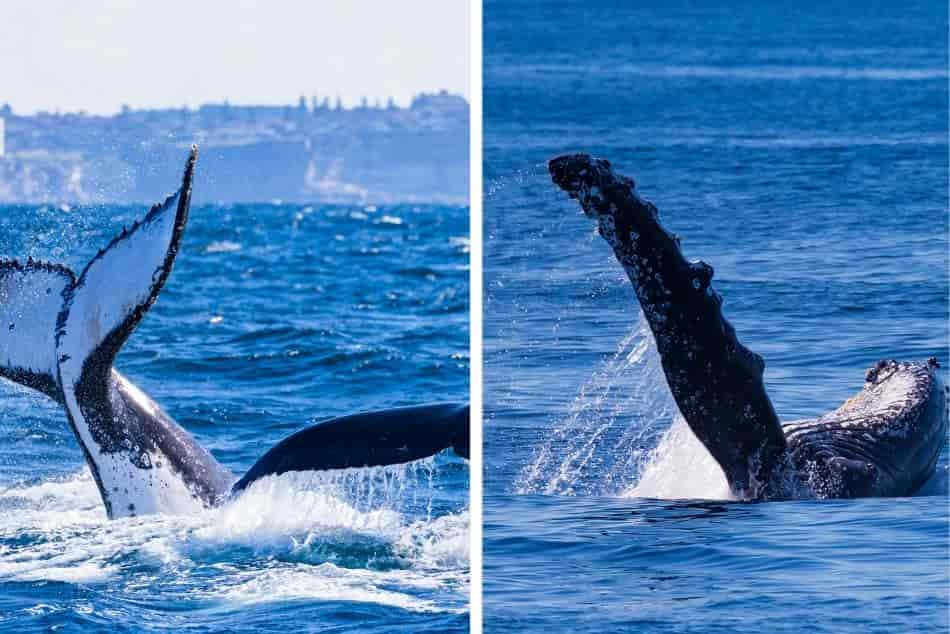 When they slap their fins on the surface of the water, they are sending out a message to other whales. They do this regularly for long-distance communication because the sound travels far down into the water. What was interesting for me was that there are also different types of slapping fins.
For example, when they repetitively slap their fins, it might be because they are communicating with whales that are closer to them. This helps bring the entire whale group together and facilitate easier migration.
c. Singing
It intrigued me when the whales made sounds, and I asked myself if they were communicating by doing so. The answer was that they do make vocal sounds, including singing; however, this method is not that useful for long-range communication. They slap their fins mostly when they are migrating, feeding, or breeding; this allowed scientists to conclude that this action plays a crucial role in their communication.
d. Beluga whales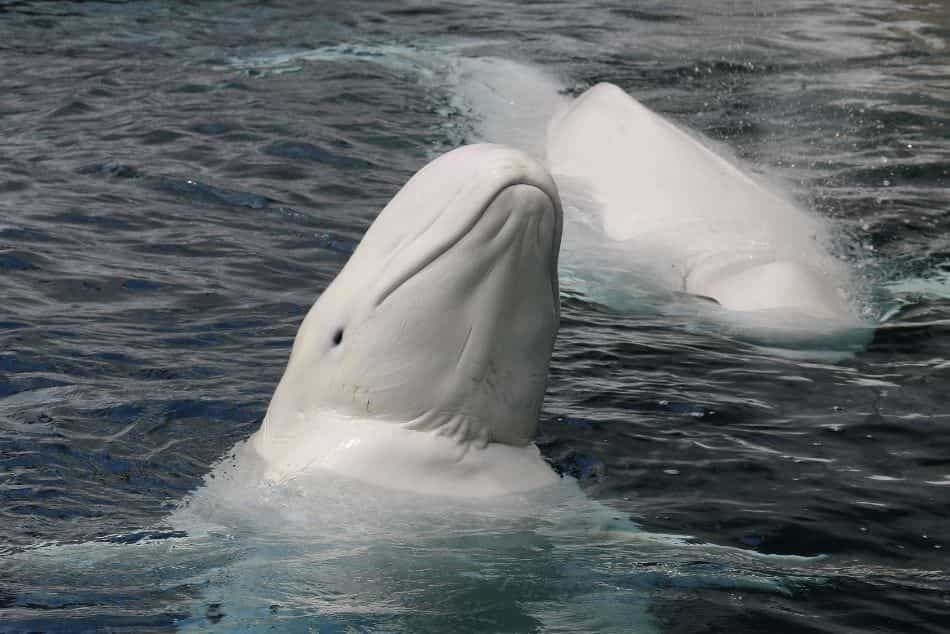 Beluga whales are very popular in the Saint Lawrence River because they live there all year round, and because they are unique. The distinct difference between these whales with other types of whales is that the Beluga female whales are slightly smaller than their male counterparts. They have many other intricacies.
We found out that they have teeth; however, they do not chew their food. Instead, they swallow their prey whole.
Another interesting fact is that this type of whale can move its neck in any direction with ease, making it easier for it to spot its prey. You will need patience to spot one because it can dive for up to 25 minutes non-stop until it needs to breathe again.
We were told that the Beluga whale sleeps with one hemisphere of the brain remaining awake, which it uses to regulate its breathing.
We learned that beluga whales are highly intelligent, vocal and social animals.
We were informed that these mammals deal with the frigid arctic cold by keeping a large layer of fat around their bodies to protect them.
Sadly, they are an endangered species, due to whaling and their mating cycle, as they only have young once every three years. However, despite the decline in the total population of the Beluga whale, they are still present in large numbers in this part of the world.
e. Humpback whales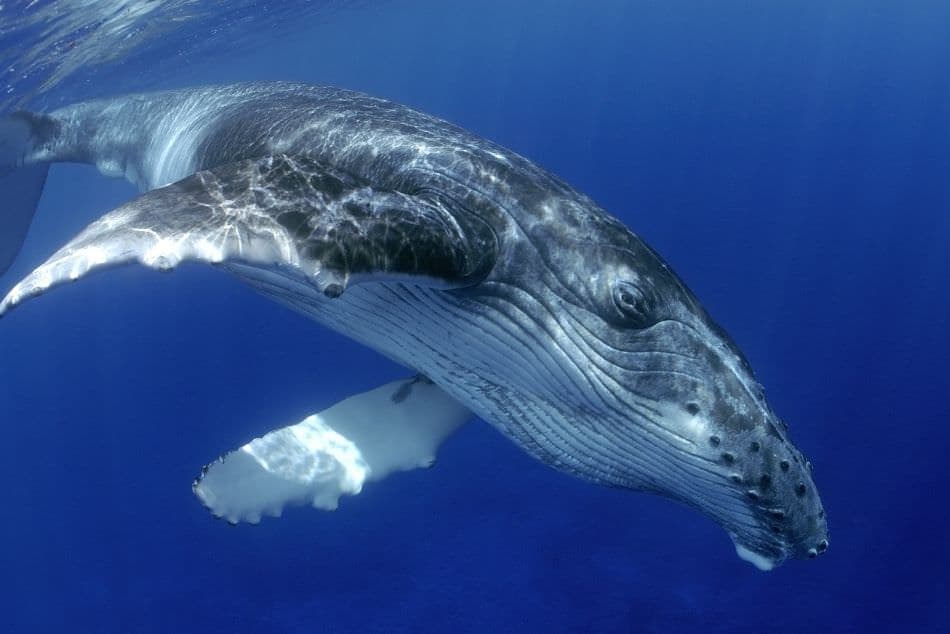 Just like the beluga whales, the humpback species needs to remember to breathe; this means that they also sleep with half of their brains remaining awake to avoid drowning.
We learned a lot about humpback whales, and I reached the conclusion that they are very intelligent based on what was told to us during the tour.
Humpback whales communicate through their body language, and they do it very efficiently; they display different behaviors to notify others about their intentions, wants and needs. Undoubtedly, it is the most sophisticated form of communication amongst marine animals.
It is not always easy to see the differences between the species of whales, but the peculiarities are that humpback females are 1-1.5 meters longer than the males. Also, the female humpback whales have a lobe about the size of a grapefruit where their genitals are located.
We learned that the fin of each humpback whale is as unique as a human fingerprint.
They are popular for singing beautiful songs when they mate, which can be heard mostly underwater and for many miles.
The surprise of the whale-watching trip: The Haut-Fond Prince Light Tower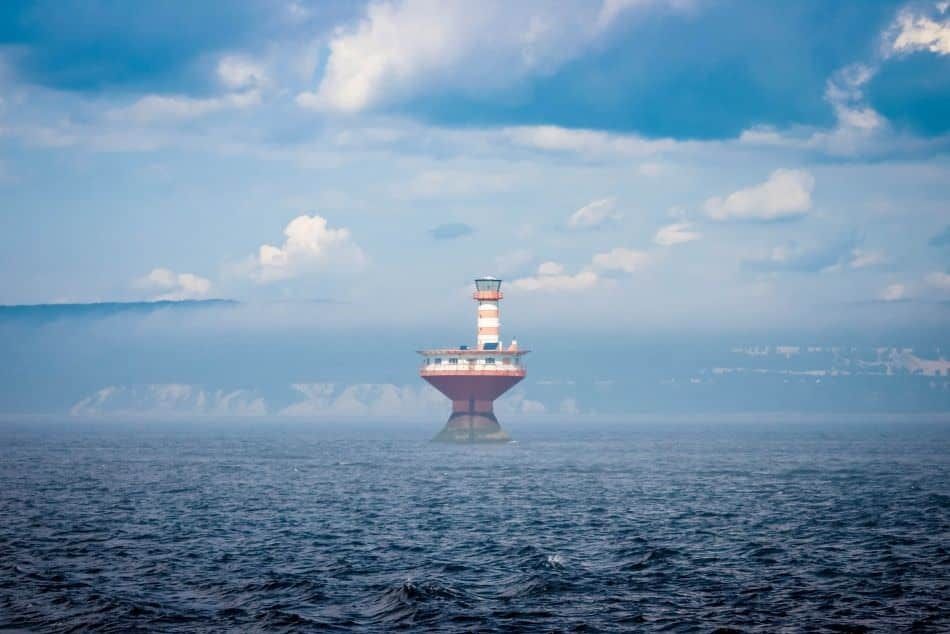 During the excursion, we saw a giant black structure; however, we could not tell exactly what it was because the sunshine was very bright. It was shaped like a flamingo bird, far in the middle of the ocean. At first, I thought that it was just another cruise ship.
When I was at the Biosphere Environmental Museum I found out that it was a lighthouse. The lighthouse was built in 1964, replacing the Prince Shoal Lightship station established in 1902. Its construction is cylindrical, with red and white horizontal stripes. On top of circular dwelling caisson, there is a vertical lighthouse. It is tapered at the base, which helps it become more resistant to the 20-foot tides prone to this area. We were told that this lighthouse signals to the passing vessels that there is a hazard under the sea in this area. The tower is 83-feet high while producing a focal plane of 81 feet. Its signal is a white flash that occurs every 2.5 seconds, within a range of 18 nautical miles.
You can clearly see the lighthouse from whale-watching boats. It can also be seen from the Baie-Sainte-Catherine on the north shore of the Saint Lawrence River or the Rivière-du-Loup on the south shore.
Stop by the Marine Mammal Interpretation Centre after the Tadoussac whale-watching trip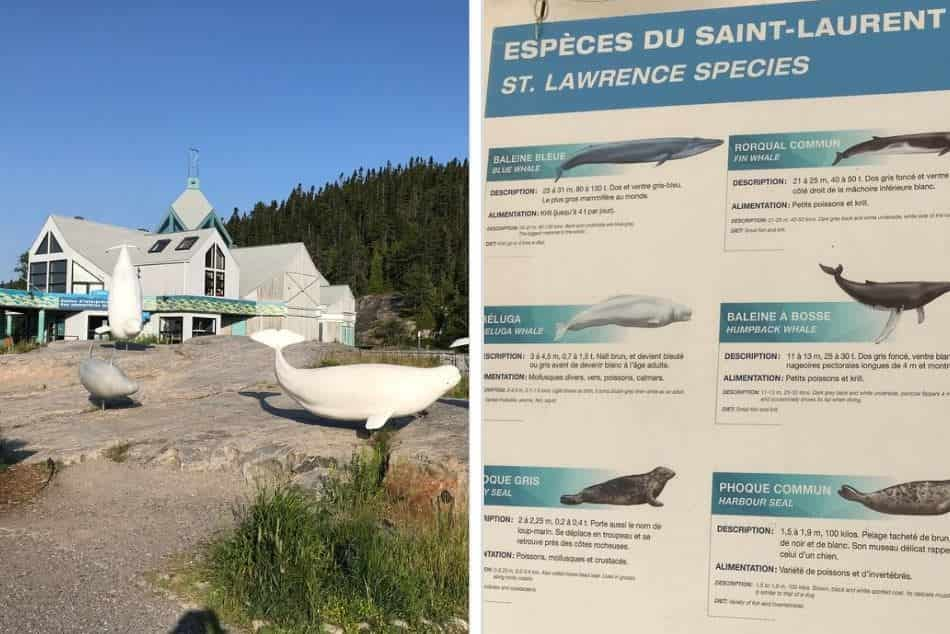 When we got back to shore, we stopped by the Marine Mammal Interpretation Centre to learn more about the different whale species. We got to experience a great atmosphere because everyone wanted to share the knowledge that they had, and they showed great enthusiasm about what they know. It is friendly and welcoming for people who have disabilities. You are sure to love it from the moment you walk (or roll) in.
We discovered plenty of unique skeleton collections, and we immersed ourselves in the world of whales. There are even bones that we touched. We also watched unpublished videos, listened to the different whale sounds and played engaging games centered around whales.
There is a gift shop, all of the proceeds of which are donated to organizations that help whales and related endangered marine animals. A tour can be offered either in French or English.
Places to eat after the whale-watching excursion
Although Tadoussac is small, with a population of only 800 people, we managed to find two cafes that served delicious food, located near the Croisières AML ticket booth. The food was reasonably priced, and the customer service was exceptional. Before returning to Quebec and/or continuing with your trip to other parts of Canada, you'll want to try one or all of these restaurants:
Restaurant option: Café Bohème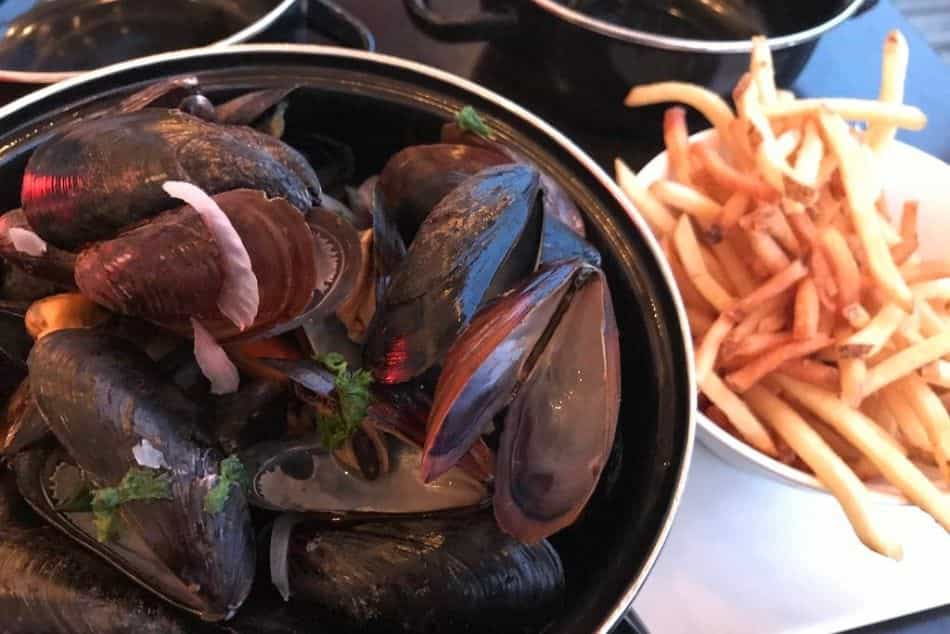 This cafe is very highly rated on TripAdvisor. As a result, when we got there, a lot of people were already queuing outside, but the staff were very friendly, nonetheless.
The service was great and the food was exceptional. The seating arrangement is quite tightly packed, though; for example, the chair in which I was seated was almost touching the chair placed behind me.
There is a beautiful outdoor seating area, and the loving spirit is definitely there. For this reason, I must say that it is worth a stop.
Restaurant option: Pick up Grillé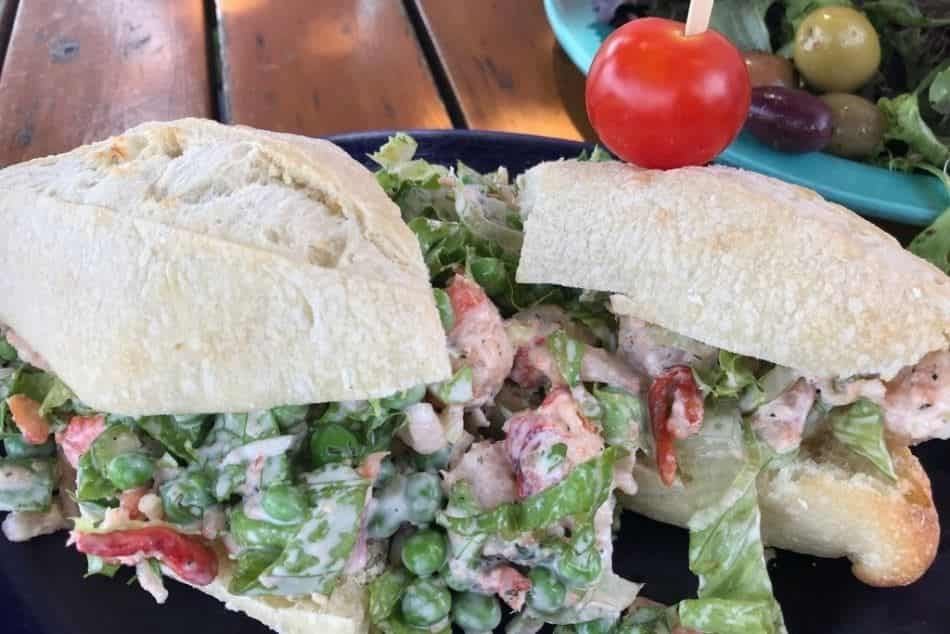 From here, we bought lobster rolls. As a bonus, the cafe had a great location for outdoor seating. When eating at Pick up Grillé, we enjoyed sitting under a tree while enjoying the breeze and sunshine.
It has great views, including a beautiful vista over the sea. Our experience was fantastic overall in this cafe.
Transport and places to stay in Tadoussac
We drove from Montreal to Tadoussac the night before our excursion. There was a ferry service that we took to cross the Saguenay River from Quebec, and we did not pay a cent for this service.
The ferry comes once every 13 minutes, more or less. It links two sections of Highway 138 Tadoussac-Quebec.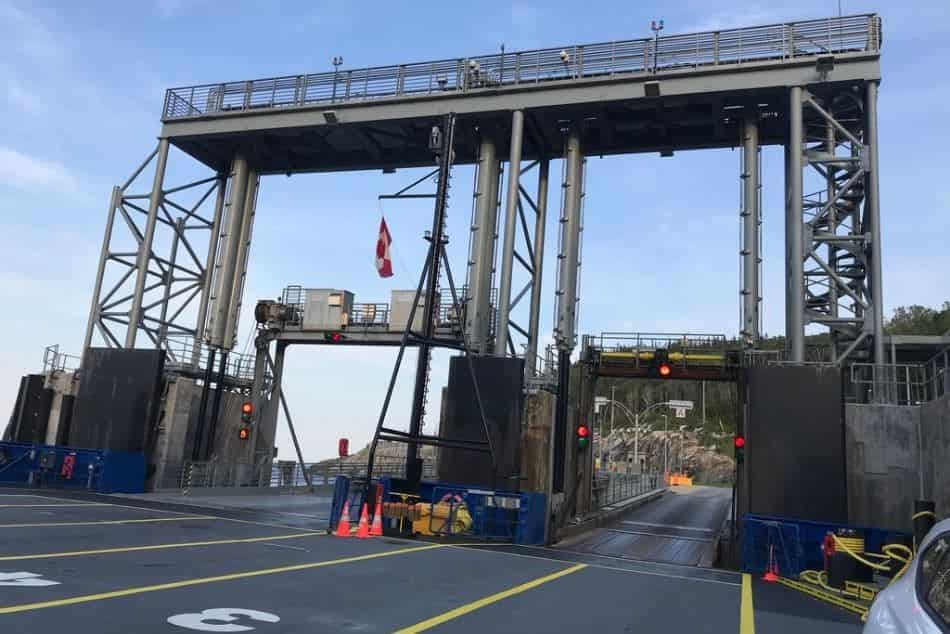 Our ferry crossing took 10 minutes, which gave us enough time to take a coffee break, and if you are lucky, you can spot a minke whale or a beluga whale during your short trip.
You can head up to the second deck to have a great sea view, and there, you can increase your chances of seeing different whales. It took us two minutes to drive from the ferry to the Tadoussac Hotel.
The Tadoussac Hotel is iconic because it has been around for more than 150 years.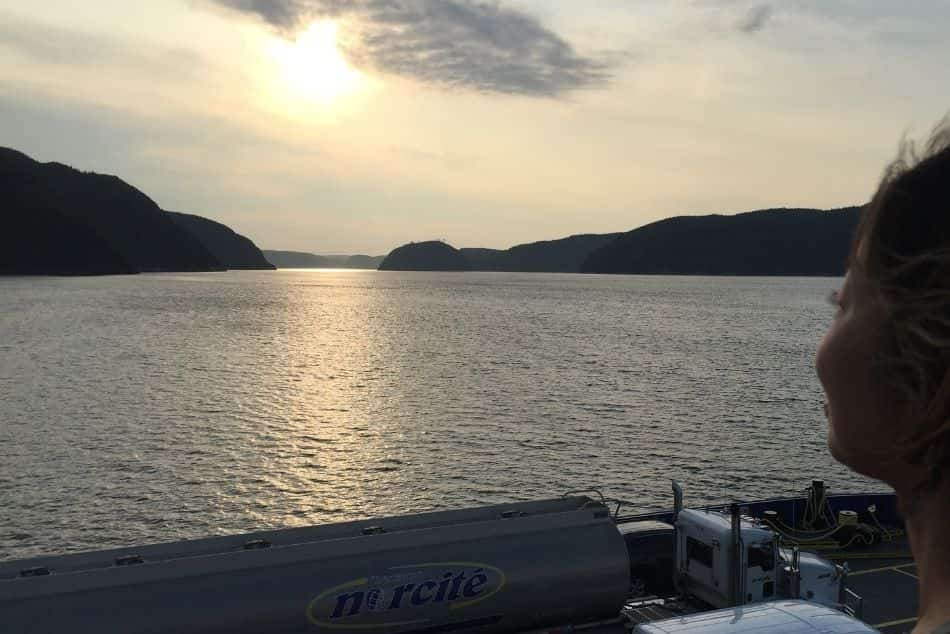 My personal opinion of the Tadoussac Hotel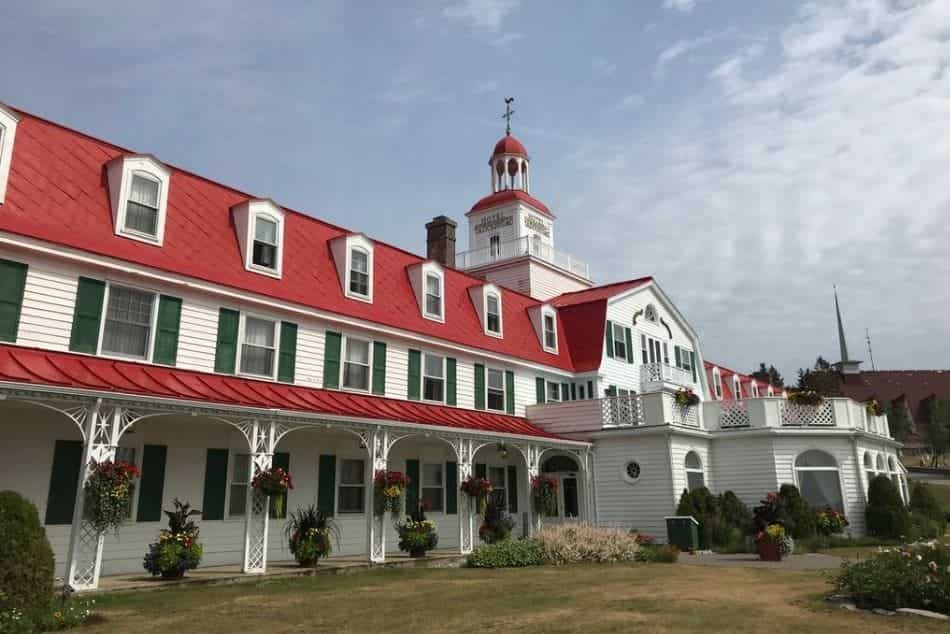 The hotel was convenient for us because it was just a six-minute walk from the Croisères AML check-in location and ticket booth. This gave us ample time to get back to the hotel for a shower before checking out of the hotel.
Also, we saw some nice brasseries and restaurants that were just a few minutes away by foot. We also loved the huge terrace on our floor of the hotel.
The greatest benefit of all was that we could enjoy a 270-degree view of the sea, which was a great place for couples or anyone who wanted to gaze at the moon.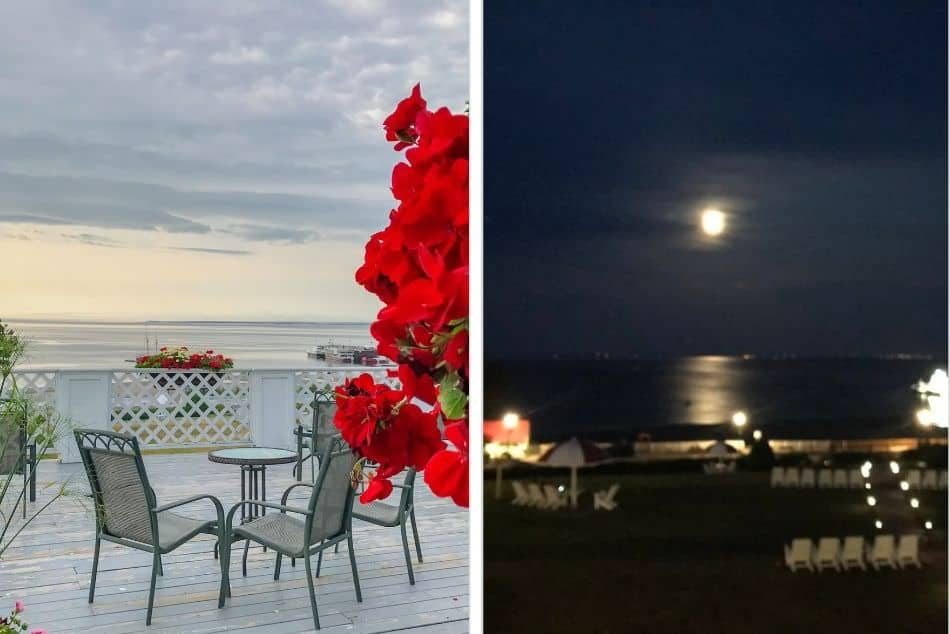 The prices started from $149 for a night, and this was for a standard room. We didn't pay in cash, but we redeemed 26,520 miles from our Asia Miles loyalty program; our points happened to be expiring very soon, so our timing was perfect.
Although the hotel was close to various amenities and had great views, the décor and furniture seemed old. Also, the lift was quite small for four people who were carrying luggage.
The hotel was finished with carpet, everywhere from the corridor to the interior of our rooms. My partner felt a little bit itchy after sleeping at the hotel. Maybe he was allergic to something in the room.
We had trouble with opening the windows, and the room we booked, which was called the queen standard room, was quite small.
Final thoughts
We had a great experience in Tadoussac, and we enjoyed interacting with the different species of whales.
If you are into whale watching, you will enjoy doing this activity in this charming small town.
Apart from the minor problems with our hotel, we loved the stay. We also enjoyed the restaurants that offered delicious food and impeccable customer service.