Montreal comes alive during the warmer months with a whole bunch of festivals, events and activities to keep everyone entertained.
Back in the summer of 2019, my partner and I spent two amazing months in Montreal, juggling work and pleasure. Trust me, it was an absolute blast! With so many things to do in Montreal, we never had a dull moment.
The city was buzzing with energy, with people soaking up the sun, playing with floor fountains, enjoying outdoor dining and taking part in various cultural events. It's no wonder Montreal is considered one of the best summer destinations in North America!
Now, I know what you're thinking: "Hold on, isn't French the official language in Montreal?" You're right, it is. In fact, over 70% of the population speaks French at home. But don't sweat it; you don't need to be fluent in French to have an incredible time. As it turns out, most Montrealers are bilingual, speaking both French and English, so you'll get by just fine while exploring things to do in Montreal.
Prepare to be Amazed at the Difference Between Quebecois French and French from France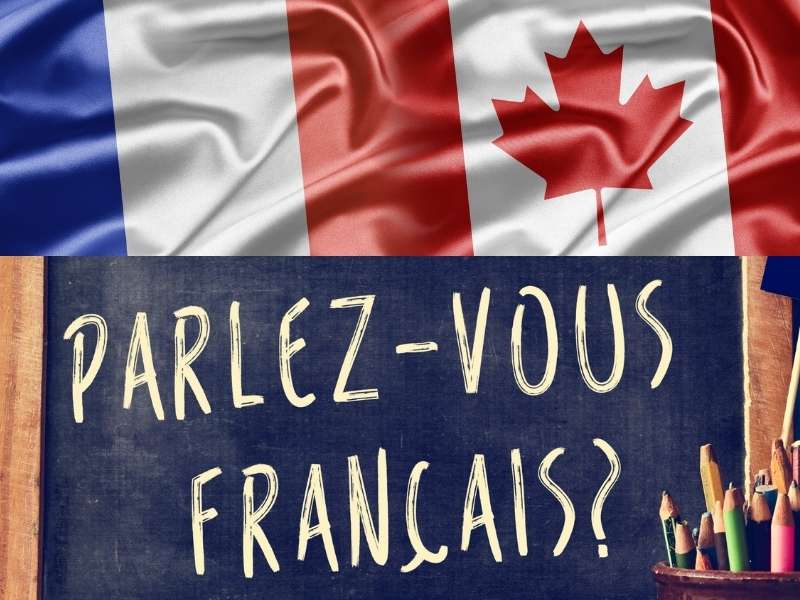 Just when you thought you could put your high school French to use, think again! You might be thinking, "I took French in school, so I'll be able to communicate just fine", right? Well, it depends on which version of French you learned!
One of the things that surprised me the most when I stayed in Montreal was how much Canadian French is influenced by American English.
Take the word for popcorn, for example. While the French simply say "popcorn," Canadians call it "Le maïs éclaté," which directly translates to "the exploded corn."
And it's not just vocabulary that differs between French from France and Canadian French. In France, falling in love is expressed as "tomber amoureux," but in Canada, it's "tomber en amour."
But perhaps the most fun difference between the two versions of French is the Canadian habit of mixing French and English in their greetings. You'll hear locals saying "bonjour-hi" all the time in Montreal!
Don't worry, I won't bore you with a language lecture. Just know that Canadian French has some real unique quirks that you won't come across in Paris. But that's what makes Montreal unique and your trip so memorable, right?
Whether you're a foodie, a music lover or a history enthusiast, there's something for everyone in Montreal. Continue reading to uncover our top recommendations for things to do in Montreal and make your summer in this fantastic city an unforgettable memory.
---
Get Your Fest On: Montreal's Summer Spectaculars that You Can't Miss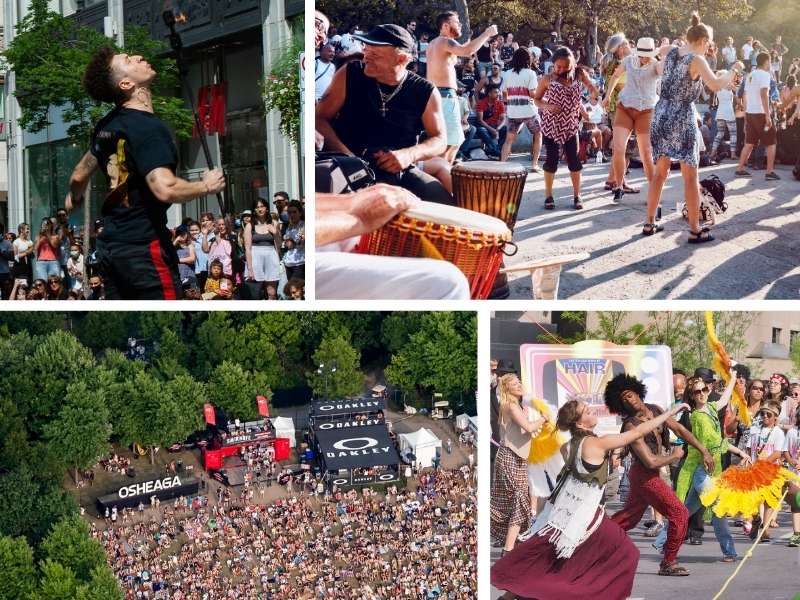 Summer in Montreal means one thing: festival season! The city comes alive with street festivals that showcase its vibrant, diverse culture.
You'll find events with a global flair, like the MUTEK music and digital art festival. For those craving top-notch indie tunes, don't miss the Osheaga Music and Arts Festival in August—it's a must-see in Montreal.
Montreal's got more than just music on offer, however. You can also catch comedy festivals, art exhibitions and even professional racing events. There's truly something for everyone in this bustling city!
Make sure to check out the city's summer calendar to plan your itinerary. With so much to do and see, Montreal's festival season is an unforgettable experience that truly captures the spirit of the city.
---
Discover Montreal's Island Oasis: Parc Jean-Drapeau & Biosphere Environmental Museum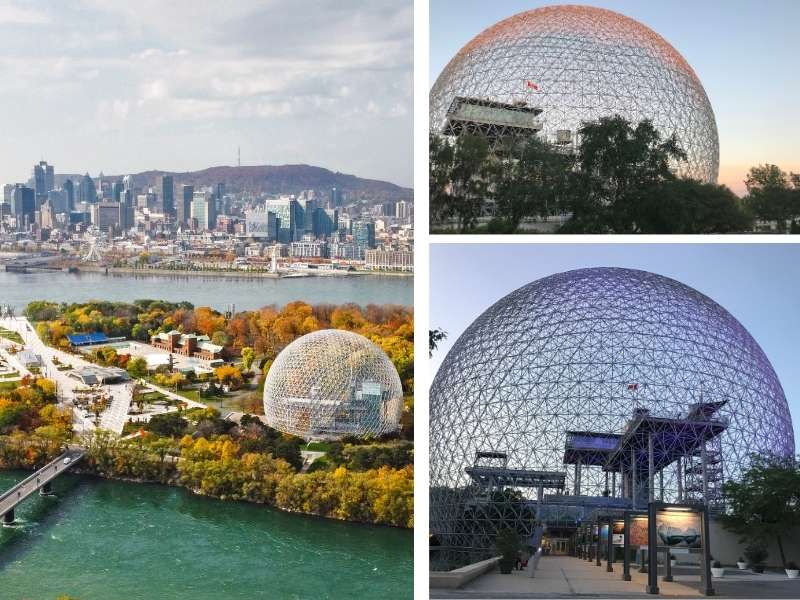 When you need a break from the festival crowds and want to explore more things to do in Montreal, head to Parc Jean-Drapeau, a sprawling park that spans over two islands, Saint Helen's Island and the Notre Dame Island. Created for Expo 67, these islands have become must-visit destinations for anyone exploring Montreal.
One of the highlights of Parc Jean-Drapeau is La Ronde, the biggest amusement park in Quebec. With 8 roller coasters, over 30 thrill rides for both adults and children and a Grande Roue Ferris wheel, it's the perfect spot for a fun-filled day with spectacular views of the Saint Lawrence River.
During the summer, La Ronde is also one of the best places to catch the incredible firework displays on the Jacques-Carter Bridge. With its expansive vantage point, you'll have an unforgettable memory.
And if you're relaxing on the grass at the Old Port overlooking the islands, you might spot an enormous disco ball on the other side of the harbor. That's the Biosphere Environmental Museum, the only museum in North America entirely devoted to the environment and its challenges. Its massive and iconic dome shifts from an orange hue to a violet one as night sets in, making it an Instagram-worthy spot.
While the museum doesn't have a lot of exhibits, it's still an incredibly cool spot packed with powerful messages about global warming, plastic reduction, environmental protection and water safety. We zipped through in under an hour, including a movie about the environment. Fun fact: I discovered that a real-life "unicorn" exists—the Narwhal! We left with a renewed sense of awareness and a greater appreciation for our blue planet.
The top floor features an open space with breath-taking city panoramas. Just a heads up, though—there aren't any food or coffee shops there, so pack a lunch to munch on in the park. Keep in mind, the park closes at 4:30 pm.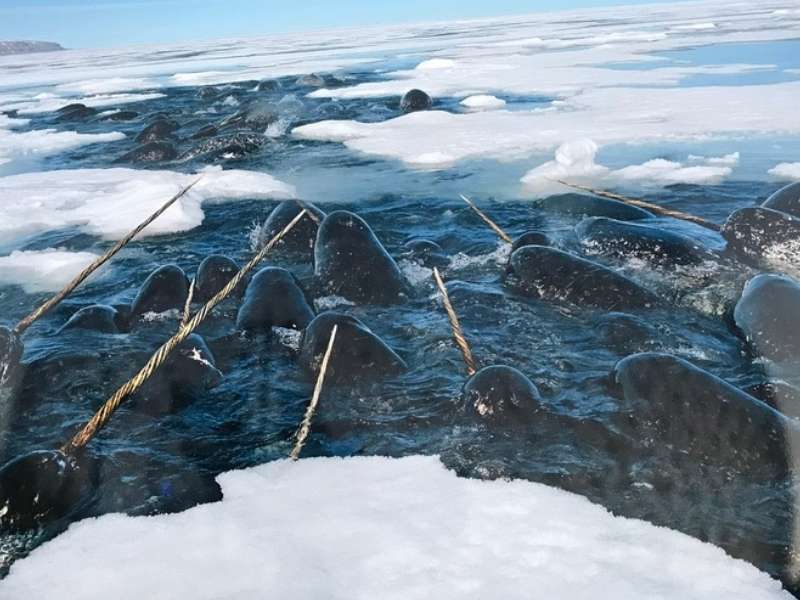 ---
Travel back to the 17th century: Exploring the Historic District of Old Montreal – a Great Addition to Your List of Things to Do in Montreal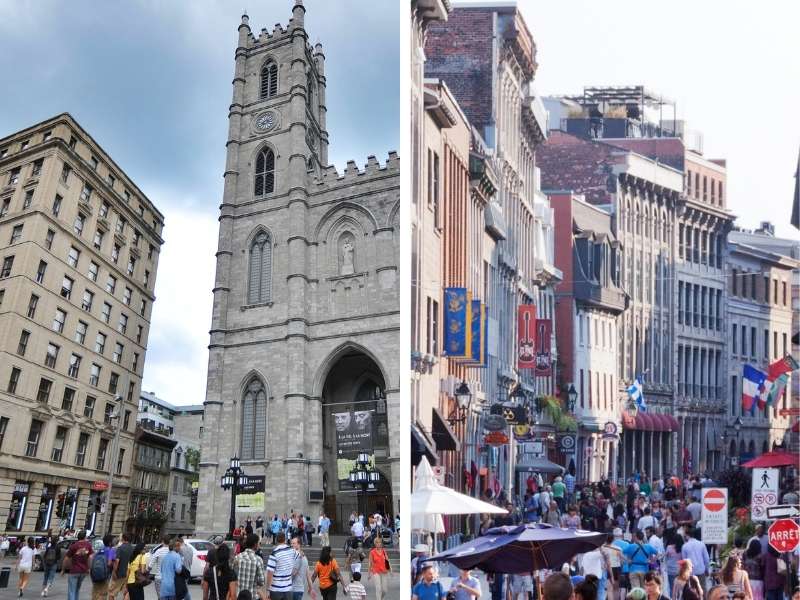 Back in 1642, a group of French settlers called the Société Notre-Dame founded a beautiful part of Montreal and named it Fort Ville-Marie.
After the Société Notre-Dame faded away, Old Montreal became the personal property of French King Louis XIV, and the buildings in the old city were built under the watchful eye of the Sulpicians. In fact, it's so historic that the government of Quebec declared most of it a historic district in 1964.
However, the Sulpicians didn't just built old Montreal, they also founded the church of Notre-Dame. But let's fast forward to 1824 when the church just couldn't contain all its faithful anymore. So, they brought in an Irish-American architect named James O'Donnell to do the job, and that's how the iconic Notre-Dame Basilica came to be!
It took nearly two decades to build, and the original church had to be completely destroyed in the process. But it was worth the wait!
I have to say, it's one of the most beautiful gothic churches I've ever seen. As soon as I stepped inside, I was awestruck by the blue ceiling studded with golden stars and the wooden interior that made me feel like I was in a national opera house.
And the 30-minute aura light show left me speechless! The lighting behind the altar adds an element that's missing from other churches. But what makes the Notre-Dame Basilica truly unique is its stained-glass windows that depict the religious history of Montreal, rather than the usual biblical scenes.
Pro-tip: To avoid the long lines, be sure to grab your tickets online.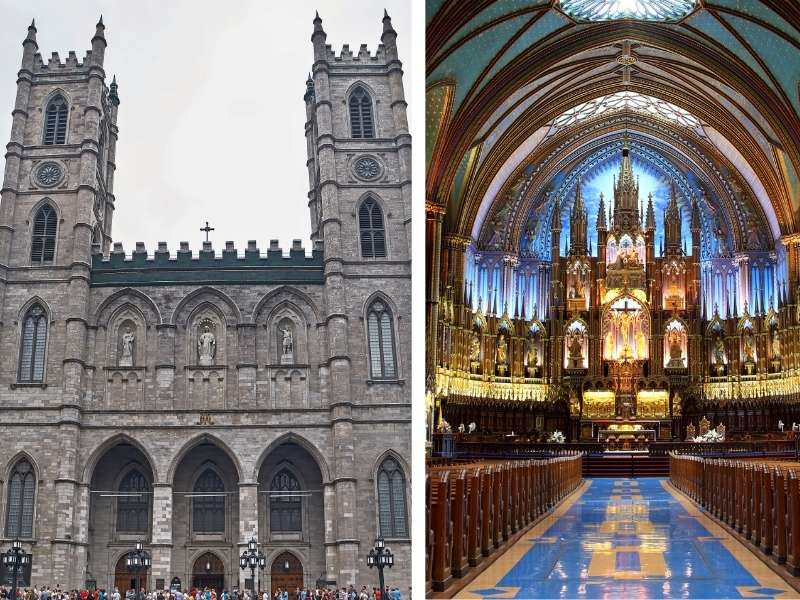 While you're on your way to Notre-Dame Basilica, keep an eye out for "Caserne 20″, a nearby fire station. If you're lucky and the firefighters aren't out on a call, you might be able to check out their fire trucks!
I couldn't believe how friendly the firefighters were when they let people hop on the trucks for a tour. It was like we crashed an open house! But, just as we were feeling like VIPs, the firehouse bell rang, and the firefighters sprang into action, asking us to exit the trucks. Although brief, it was an awesome experience that I'll always remember.
The Old Port is also must-visit destination. As you stroll along the river, keep an eye out for historic markers that explain the area and what once stood there. This part of the port still serves the cruise and tourism industry, and there are tons of cute places to stop and snap some pictures.
At the Old Port, you can ride a ferris wheel, go on a zip line or just lay down a picnic blanket and relax on the lawn. And with plenty of stalls and eateries around, you won't go hungry. It's a great spot to spend a couple of hours on a sunny day, taking in the sights and sounds of this vibrant city.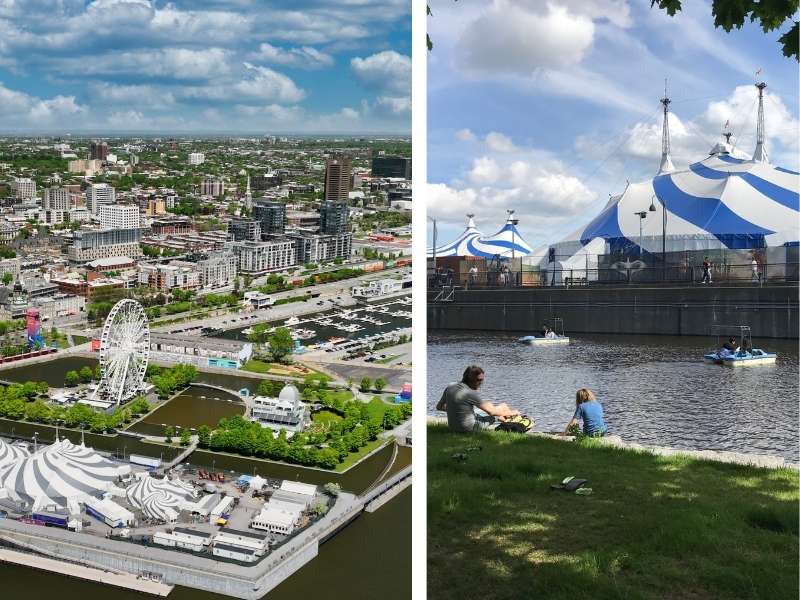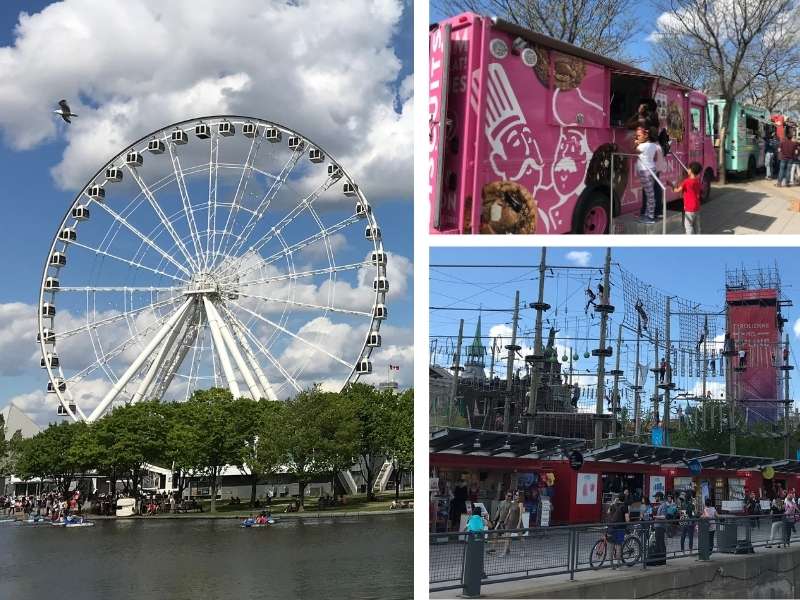 ---
Catch the Summer Fireworks Display on Jacques Cartier Bridge, a Great Addition to Your List of Things to Do in Montreal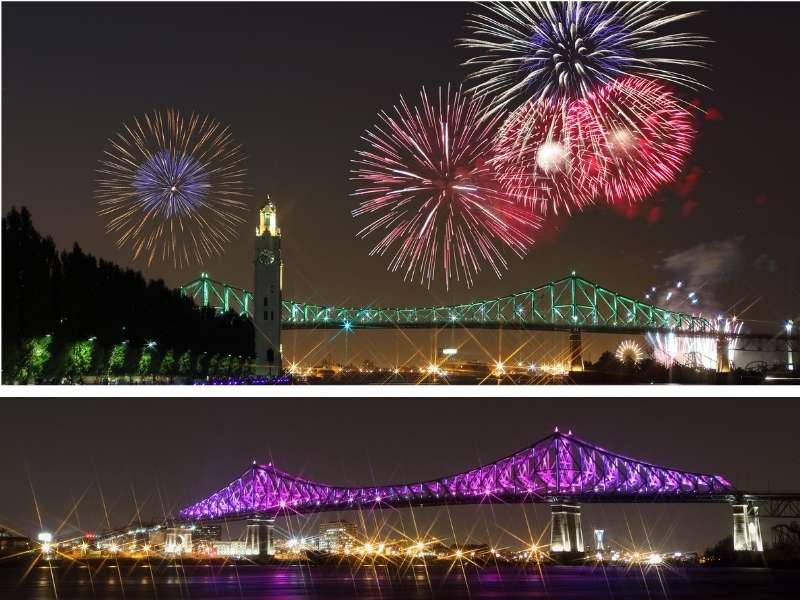 The spectacular fireworks display over the Jacques Cartier Bridge is surely one of the best things to do in Montreal.
Here's the deal: On fireworks evenings, the Jacques-Carter Bridge is closed to all vehicles and bicycles. So, to get there quickly and easily, hop on the Jean-Drapeau subway.
If you are looking for a great spot to watch the show, head to the grandstands at La Ronde, or better yet, check out the Village au Pied-du-Courant, a hidden gem in Montreal.
But wait, the Village au Pied-du-Courant isn't just for the firework show. It's a perfect spot to relax on a summer night. This little-known space is transformed each year by a group of talented artists and volunteers into an amazing experience for visitors.
The beachy atmosphere is very relaxed, and it's the perfect place to take a leisurely stroll along the boardwalk. And, while you're there, grab a bite to eat from one of the food trucks parked nearby.
Plus, the area boasts stunning views of the Port of Montreal, with the railway and Champlain Bridge creating an eye-catching backdrop that's just begging to be captured in your next Instagram-worthy photo.
---
Get Lost in the Massive 190-Acre Montreal Botanical Garden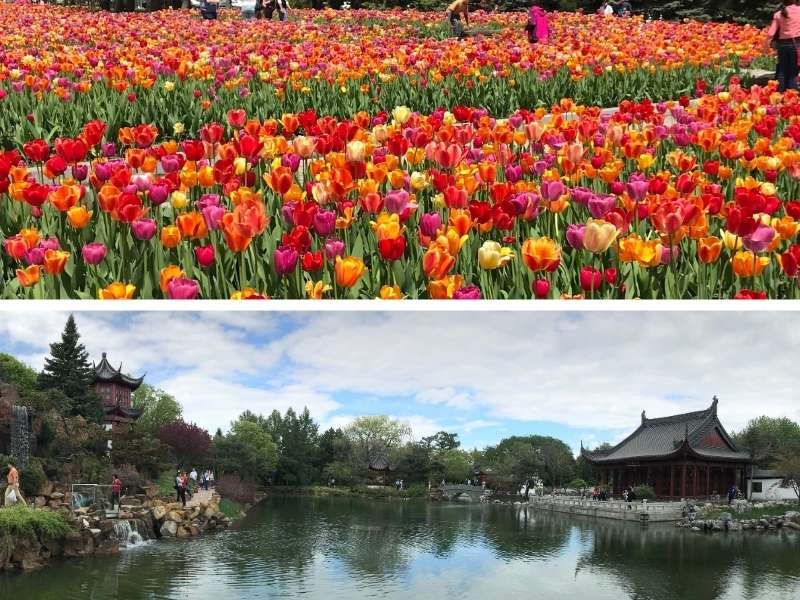 If you're a nature lover, you've got to check out the Montreal Botanical Garden in summer, one of the most beautiful things to do in Montreal. This place is massive – with 20 themed gardens, 10 greenhouses, and over 20,000 plants spread out over 190 acres of land. No wonder it's a Canadian National Historic Site and an internationally acclaimed attraction!
When you visit the garden, make sure to stop by the rose garden, where you can see over 7,000 roses in bloom. Or take a stroll through the alpine garden, where you can see a various plants that thrive in high-altitude environments.
While we were there, we were hoping to see the giant living plant sculptures. To our disappointment, we learned they were relocated to Ottawa in 2013. But don't let that deter you! The entrance greets you with a stunning display of flowers (which change periodically—we saw a sea of tulips during our visit). The peaceful vibe of the 6-acre Japanese garden, and the mesmerizing lakes, bridges, and waterfalls in the Chinese garden all come together to create an experience you won't soon forget. Exploring the botanical garden is undoubtedly one of the top things to do in Montreal.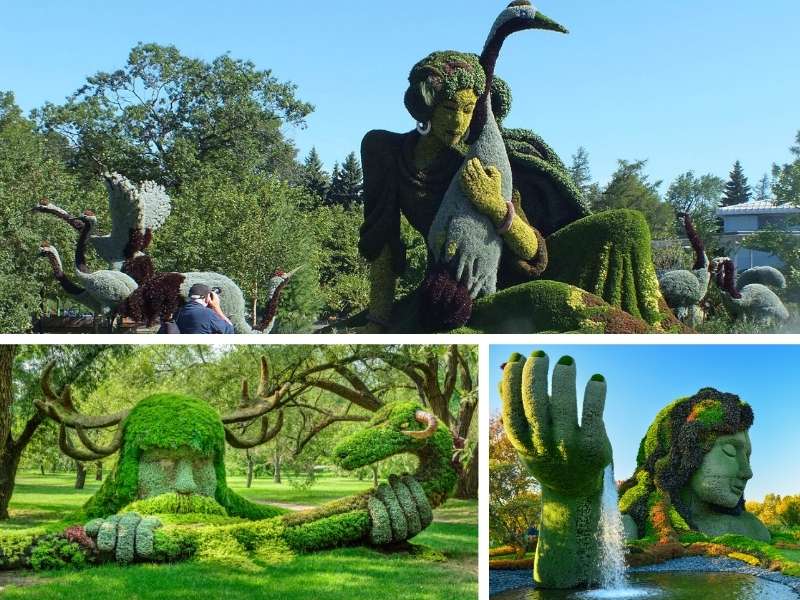 ---
Find Your Inner Peace in the Serene Environment of Parc du Mont-Royal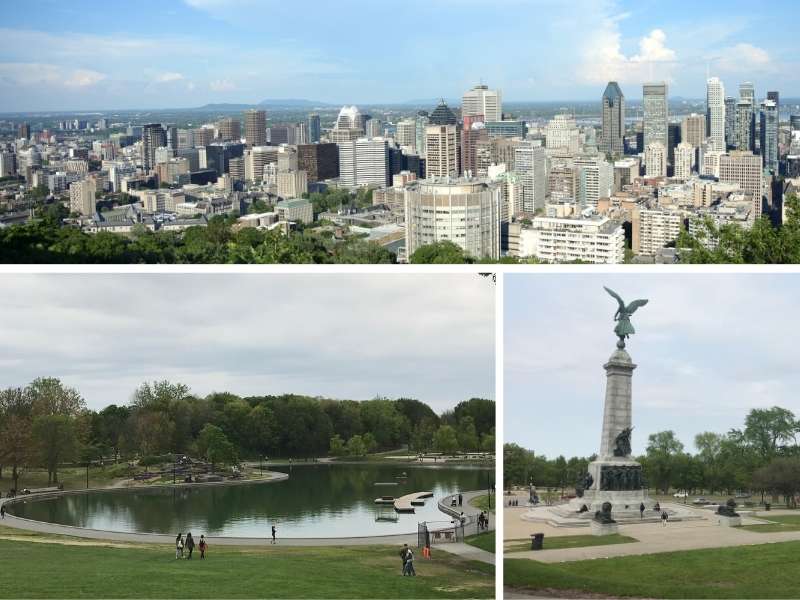 Looking for a serene escape from the hustle and bustle of Montreal in the summer? Parc du Mont-Royal is the perfect place to find your inner peace and is an essential addition to your list of things to do in Montreal.
Did you know that one of the designers of Parc du Mont-Royal (Mount Royal Park), Frederick Law Olmsted, is the same man who co-designed Central Park in New York City? Olmsted wanted to make the mountain stand out, so he used vegetation to make it appear even taller. It's like an optical illusion!
But it's not just the illusion that will take your breath away. The park also offers stunning views of the city from two belvederes. Out of the two, the Kondiaronk Belvedere has the best panoramic view of Montreal. When I got to the top for the view, it reminded me of the top of Sacré Coeur in Montmartre, Paris. While it's true that the Parisian view might have the edge, I must say, this one is definitely worth the climb as well and should be included in your list of things to do in Montreal.
Don't forget to check out the sculpture garden and Beaver Lake- an artificial lake that's perfect to have a relaxing afternoon stroll around in the summer.
---
Make a Pilgrimage to L'Oratoire Saint-Joseph, a National Shrine in Canada – A Must-visit among Things to Do in Montreal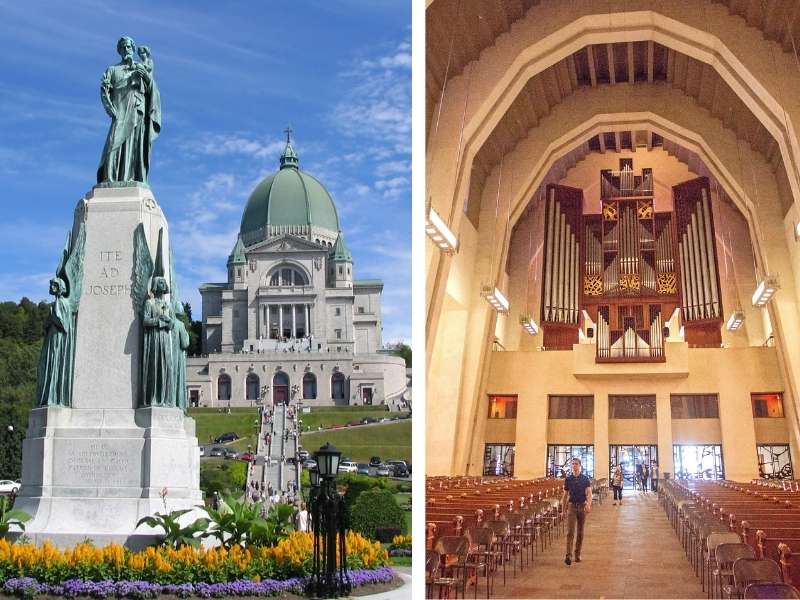 In search of a spiritual experience? Make L'Oratoire Saint-Joseph your next destination – it's the largest church in Canada!
Nestled on Westmount Summit, part of Mount Royal, this Catholic basilica is a national shrine in Canada. Saint André Bessette commissioned it to honor his patron saint, Saint Joseph. Commonly known as Brother André, he earned the nickname "Miracle Man of Montreal" thanks to his healing powers.
Once you step inside the basilica, you'll be struck by the simplicity and modernity of the interior. Be sure not to miss the large room filled with candles from floor to ceiling – it's a breath-taking sight.
If you choose to go by car, there's a $5 entrance and parking fee. Alternatively, you can get there by metro, and if you prefer not to hike the steep climb to the basilica, a shuttle van is available to take you up and down the hill.
With so much to see, plan to spend at least two hours here to explore everything: the Crypt Church, the Votive Chapel, the Shrine, the dome (one of the largest domes in the world), the adjacent garden and the gift shop.
At the end of our visit, we made our way to the terrace and witnessed an amazing sunset and a magnificent view of Montreal. We were truly awestruck! Even though some areas were being renovated during our visit, it didn't detract from our experience.
Before you go, I highly recommend researching the history and background of the grounds and church – it'll add depth to your visit and make it even more memorable.
---
Embrace Diversity: Celebrating LGBTQ+ Inclusivity through Music and Performance in The Village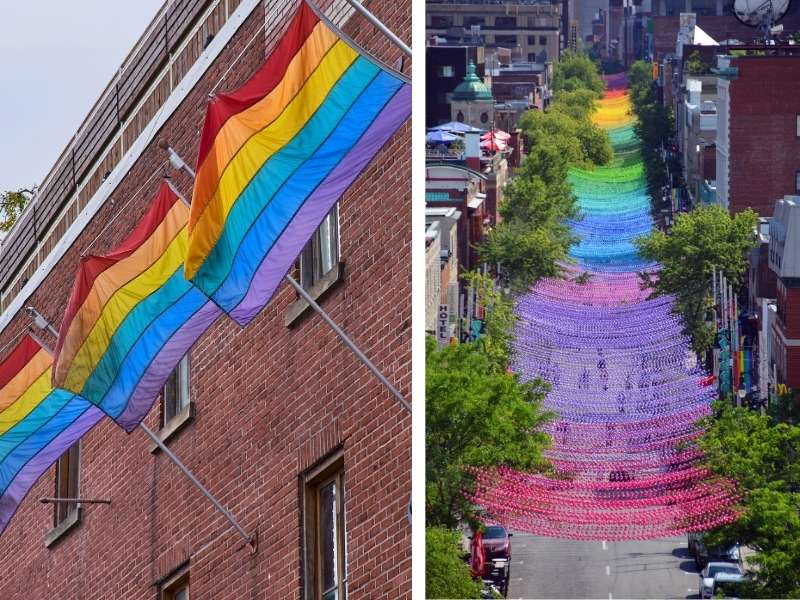 If you haven't heard of Montreal's lively and colorful Gay Village (now rebranded as The Village), you're in for a treat and a wonderful addition to your list of things to do in Montreal.
This neighborhood has a rich history dating back to the 1800s, but it wasn't until the 1980s that it became a hub for the LGBTQIA+ community. Nowadays, The Village is like a world of its own, with shops, bars and even residential areas that cater to the community's unique style and vibe.
Alright, here's the bad news: the "18 Shades of Gay" rainbow ball display is no longer around. It was pretty epic, spanning over a kilometer and made up of 180,000 vivid balls. Sadly, all good things must come to an end, and in 2019, the display was removed to make room for new artwork. Now for the good news: if you didn't get a chance to see it, don't worry—there's still tons to see and do in The Village!
In summer, The Village really comes alive with a bunch of free outdoor concerts by drag queens and kings, dancing, vogueing, circus and cabaret variety shows – all celebrating diversity! For a full calendar of events, be sure to visit their official website.
---
Unleash Your Inner Art Lover by Exploring Montreal's Vibrant Mural Scene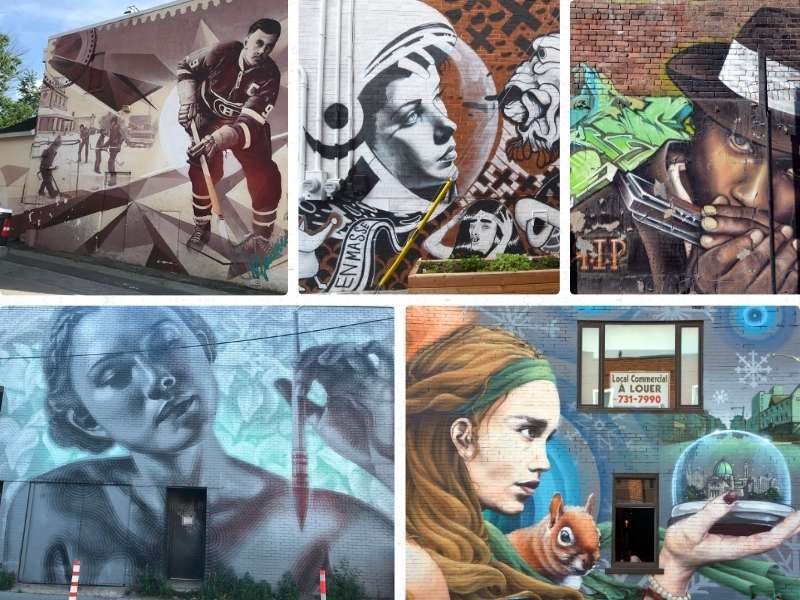 One of my favorite things to do in Montreal is stumbling upon the amazing street art that's everywhere! From hidden alleyways to building walls, there's always something to see.
Montreal is renowned for its incredible mural art scene, so if you appreciate beautiful and creative graffiti, you come to the right place. For the best street art experience, start your exploration on Saint-Laurent Boulevard. There are guided tours available by experts in mural art, or you can download the Mural app for a digital guided tour.
It's the perfect summertime activity—strolling through the streets, discovering vibrant and unique art on every corner. Exploring the mural scene is certainly one of the most colorful things to do in Montreal.
But remember, if you see any artists painting on the wall during your tour, be sure to ask for permission before taking photos of their works.
---
Explore Montreal's Hipster Food Haven: Mile End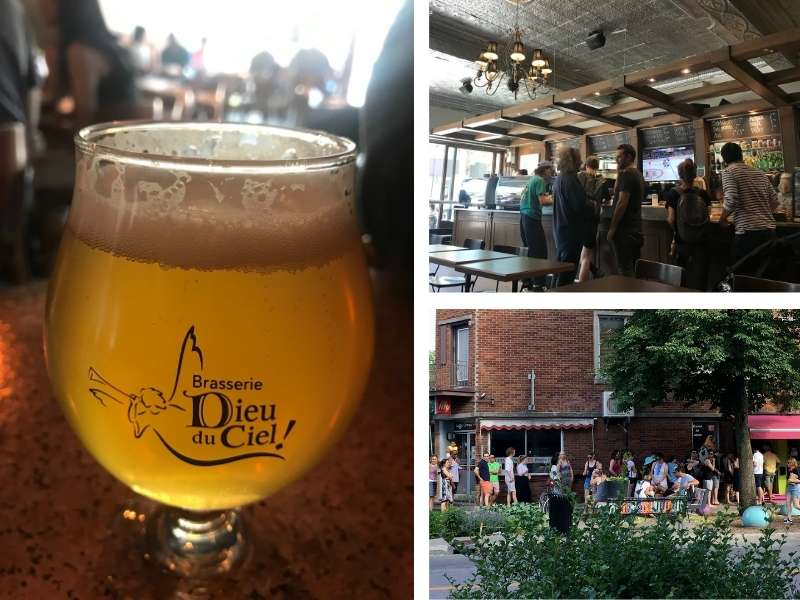 Nestled in the heart of Montreal, Mile End is a vibrant and eclectic neighborhood known for its thriving arts scene and mouth-watering food. This place was put on the map in the 80s thanks to a bunch of cool musicians, filmmakers, and writers, who made it their home. The result? A food scene like no other!
As you walk down the bustling streets of Mile End, the colorful storefronts of artisanal shops and galleries catch your eye, beckoning you to explore. But most importantly, it's a foodie paradise. Trust me, you'll want to include these Mile End eateries on your list of things to do in Montreal.
To make the most of your time and to experience the best of the area, consider joining a food tour led by an expert. These tours typically last 3 hours. However, if you're more of a leisurely explorer like me, here are some of my top recommendations.
At St-Viateur Bagel Shop, indulge in the delectable smoked salmon sandwich – the perfect harmony of flavors and textures that will whisk you away to a culinary utopia. For a cozy and inviting atmosphere, Café Olimpico is the ideal spot to enjoy a rich espresso and engage in some people-watching.
Make sure to check out the craft beer and friendly service at Dieu du Ciel, and don't forget to try the local maple syrup soda, Bec Cola. If you're in the mood for something sweet, Kem CoBa's ice cream is like a taste of heaven in a cone, with flavors that range from classic chocolate to exotic durian and pandan, but be prepared for a bit of a wait.
So come on down to Mile End and discover why this neighborhood is a foodie's dream come true.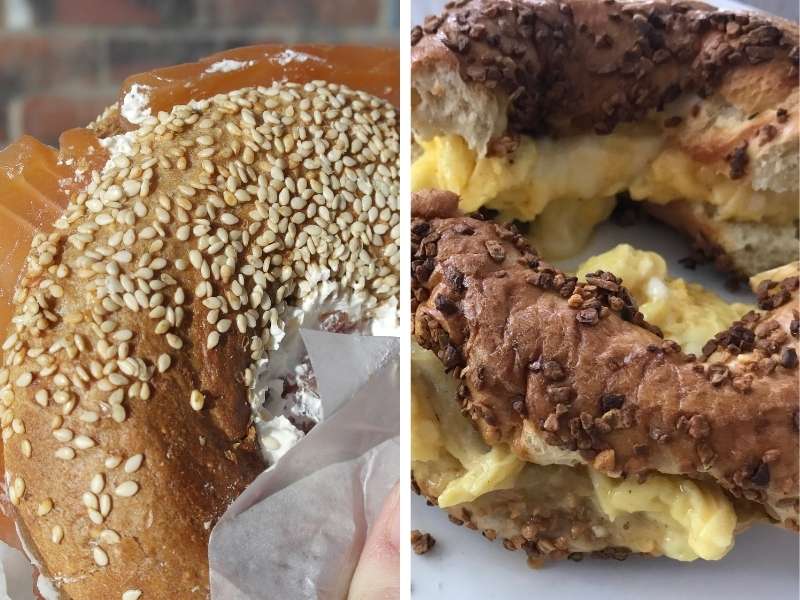 ---
Savor North America's Largest Open-Air Market: Jean-Talon Market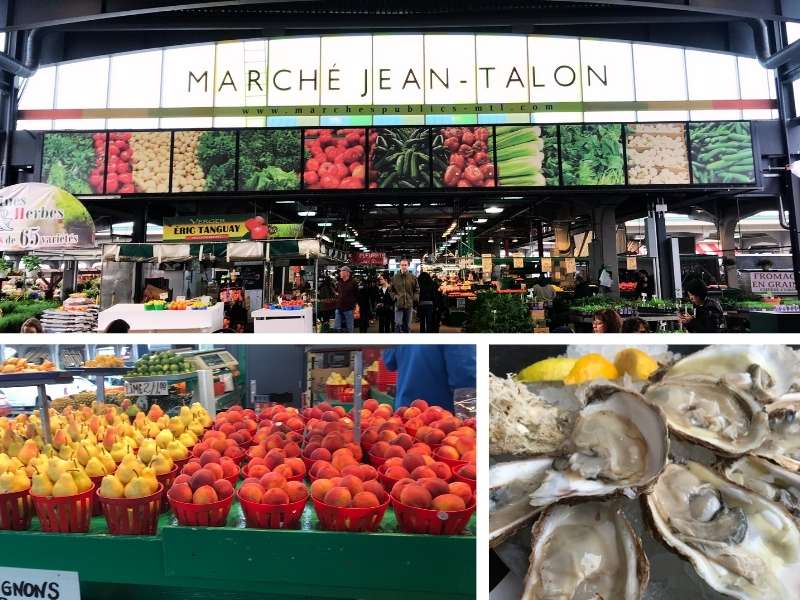 Looking to get your hands on some fresh, locally sourced produce in Montreal? Then you have to hit up Jean-Talon Market. This place has been around for over 80 years and it's one of the most popular spots in the Little Italy district. Visiting this market is certainly one of the top things to do in Montreal for food enthusiasts.
Back in the day, this spot was just a field for a lacrosse club, but now it's a paradise for foodies with over 300 vendors (farmers from the Montreal countryside)! And get this, it's the biggest open-air market in North America.
When you walk into the market, you'll be greeted by a rainbow of colors and smells. The stalls are overflowing with ripe berries, juicy peaches and crispy veggies that are so fresh you can almost taste the dirt they were grown in. They've got meat, cheese, baked goods, gelato, poutines, and even fresh oysters! Trust me, you'll have so many options to choose from.
---
Indulge in the Ultimate Comfort Food: One of the Best Poutines in Montreal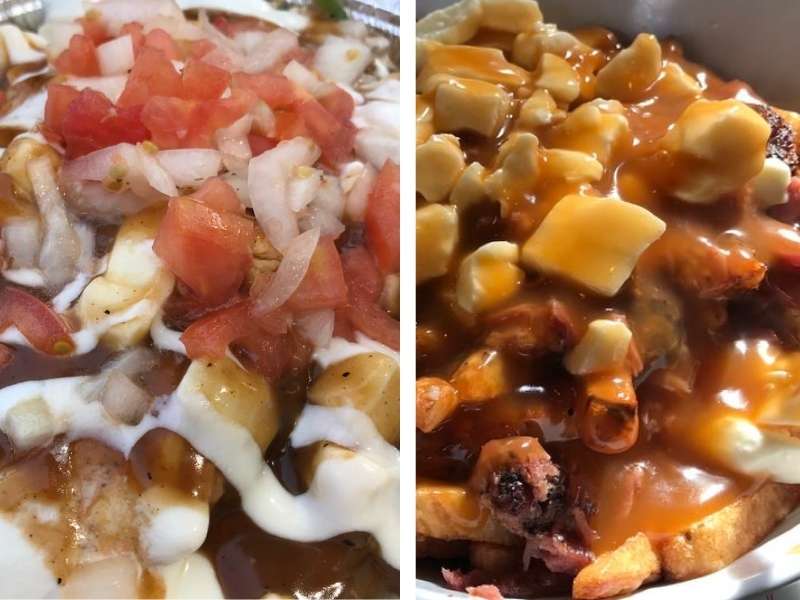 When it comes to traditional food in Montreal, you can't forget about poutine! It's like the ultimate fast and comfort food here, and you can find a restaurant serving it on every corner. For those who don't know, at its most basic, poutine is a dish of French fries topped with cheese curds and brown gravy.
During my stay in Montreal, I ate loads of them. But one of the best poutines I had was at Restaurant Paulo & Suzanne, located in Cartierville. Including this restaurant in your things to do in Montreal would be a wise choice.
This family-run restaurant has friendly staff and the waiting time to get your food isn't too long. You can choose to sit outside or inside, whichever you prefer.
We tried their traditional poutine, chicken poutine, vegetarian poutine, burgers and grilled cheese, and we were not disappointed. The gravy was just the right consistency and not too salty. And with plenty of options, their poutines come absolutely loaded with the toppings you choose – the portions are generous!
Just keep in mind that the place is usually packed, so you might need to wait for a table. There is free parking, but it's limited due to the nearby hospital, and they only accept cash.
It's worth noting that if you're staying in the Montreal downtown area, you might need to travel across town to get there. While you might find it slightly pricier than other poutine places, trust me, given the generous portions and delicious taste, it's all worth it.
---
Step Inside a Montreal Architectural Wonder: Habitat 67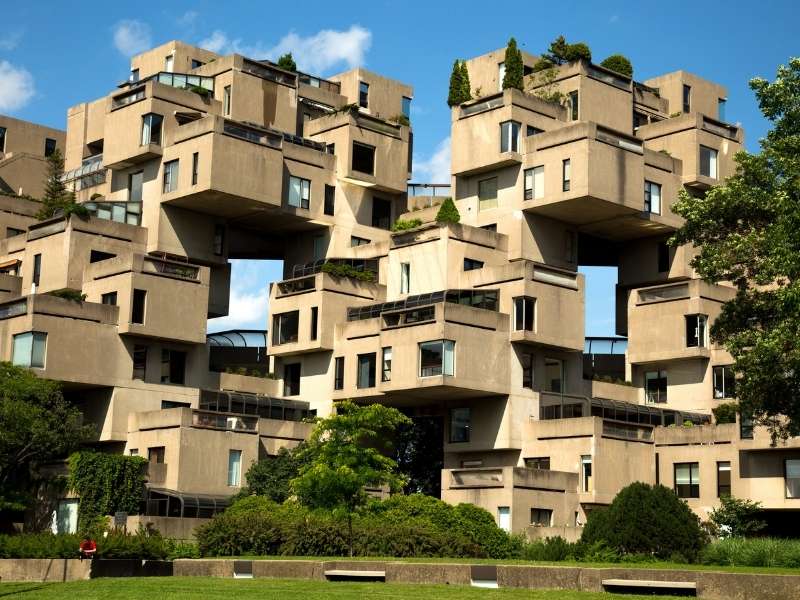 If you love gawking at architectural marvels like me, you won't want to miss Montreal's Habitat 67! This stunning structure was designed by the legendary Moshe Safdie, who originally created it as a thesis project before it was showcased at Expo 67.
Safdie's cutting-edge design combines the best of suburban living (gardens, fresh air and privacy) with the benefits of modern urban apartments. The result? A mind-blowing building that will take your breath away.
The 146 units are stacked in a unique and interlocking pattern, varying in size and layout, giving the entire building a futuristic vibe. And with ample natural light, rooftop gardens, and excellent ventilation, the residences feel both private and connected to nature.
When you visit Habitat 67, make sure to take the guided tour, offered in both English and French. During the 90-minute tour, you'll get to explore the building's suspended terraces and even step inside Moshe Safdie's own penthouse. It's a truly unique experience that highlights the most imaginative approach to city living and a must-add to your list of things to do in Montreal.
---
Discover a World Below the Streets: Exploring Montreal's Underground City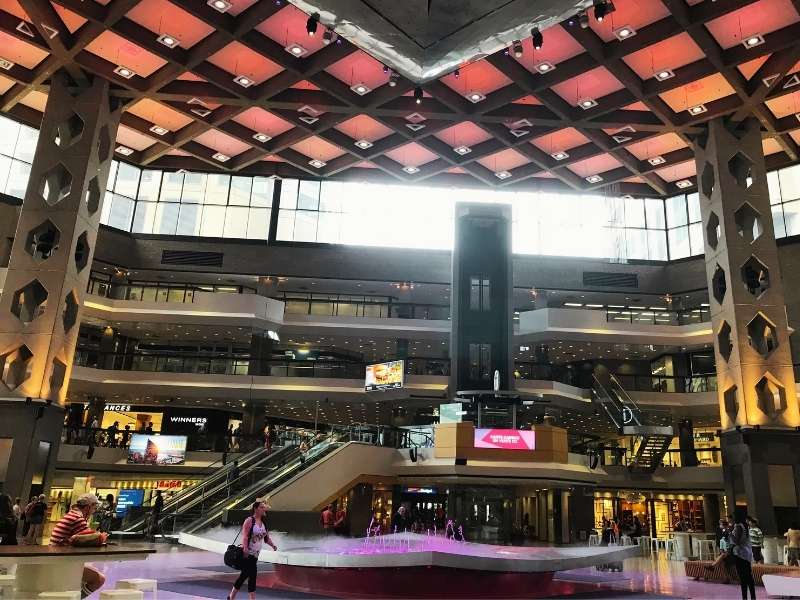 Imagine exploring a sprawling, interconnected web of shopping centers, hotels, museums, theaters, and more—all without stepping foot outside! Montreal's Underground City, or RÉSO, offers just that.
With over 20 miles (32 km) of subterranean passageways, the Underground City provides a climate-controlled haven for both locals and tourists alike. You'll find over 1,700 shops, 200 restaurants and 40 movie theaters down there, making it the ultimate one-stop-shop for entertainment and relaxation.
The Underground City is located beneath the bustling streets of downtown Montreal, and stretches from the Place-des-Arts to the Place Bonaventure, connecting seven metro stations along the way. You don't have to worry about sweltering summers while exploring the vibrant heart of Montreal!
To start your underground adventure, head to any of the major access points, like McGill and Peel metro stations. You'll find the RESO signs and maps to help you navigate through this massive Underground City.
---
Get Up Close and Personal with Wildlife: A Thrilling Whale Watching Tour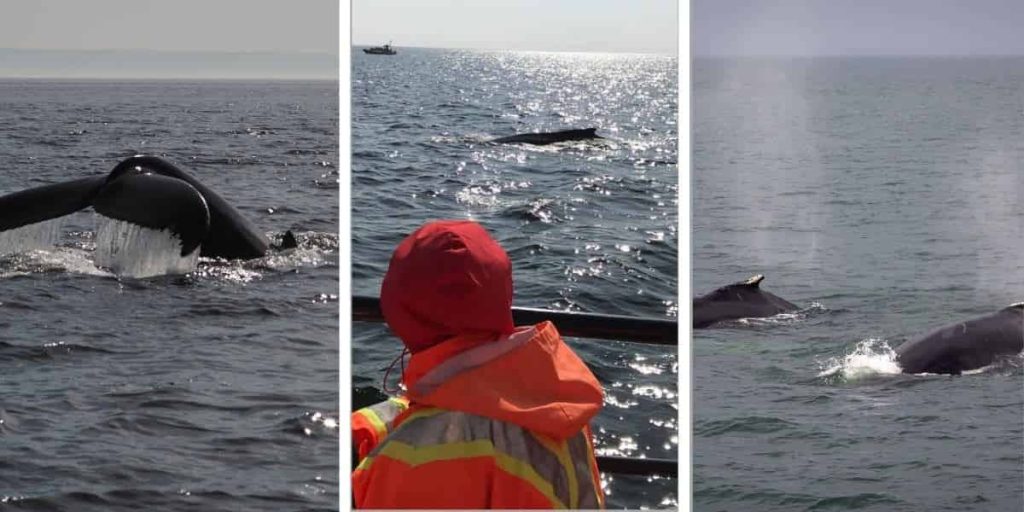 If you're searching for a unique summer adventure in Montreal, I highly recommend going on a whale watching tour! Among the many things to do in Montreal, this is an experience you'll never forget.
One option is to hop on a round trip from Montreal to Riviere-du-Loup with a bilingual tour guide on a bus. Once you arrive, you'll board a cruise ship, complete with a naturalist tour guide and lunch. It's the perfect way to explore the beauty of the St. Lawrence River and observe whales in their natural habitat.
For a longer trip, consider the 3-day Quebec itinerary, which includes a stop at Montmorency Falls and a whale watching zodiac excursion in Tadoussac, which is a 5-hour drive from Montreal. Let me tell you, this two-hour whale watching zodiac excursion was the highlight of our trip!
Although seeing whales isn't guaranteed, we were lucky enough to spot so many whales, some as close as 10-15 meters away! It was an awe-inspiring experience that left us feeling like giddy kids.
Be sure to check out my complete reviews for more information and tips.
---
Step into Barbie's World of Fashion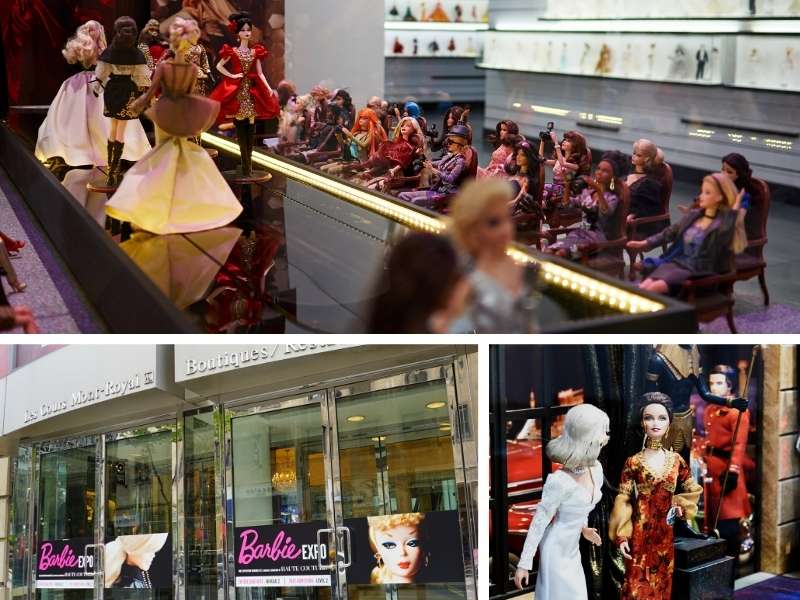 Even if you're not a die-hard Barbie fan, you might still want to check out the Barbie Expo at Les Cours Mont-Royal in Montreal. Fun fact: it holds the world record for the largest permanent exhibition of Barbie dolls! And the best part? Admission is completely free.
The exhibition showcases dolls of every ethnicity and size, with most of the collection coming from avid collectors. You'll see dolls decked out in designer outfits, and some even resemble iconic figures like Marilyn Monroe, Beyoncé, and Jennifer Lopez in their signature looks.
Don't let the name fool you – the Barbie Expo isn't just for kids or die-hard Barbie fans. It's a celebration of fashion, culture and art, and it's a great place to cool off on a hot day in Montreal's downtown area. If you're looking for unique things to do in Montreal, the Barbie Expo should definitely be on your list.
Not only can you check out over a thousand Barbie dolls on display (yes, you read that right), but there's also a photo booth where you can snap a pic and pretend to be a new-in-box Barbie. It's a fun and interactive way to experience the exhibit.
I'll admit, I'm not the biggest Barbie fan, but seeing the dolls brought back memories of my own childhood days with Barbie. So, take a trip down memory lane or discover the world of Barbie for the first time at the Barbie Expo.
---
Montreal Summer Essentials: What to Pack for the Perfect Trip
Montreal gets hot and humid in summer, usually mid-70s to mid-80s°F (around 24 to 30°C). Don't be surprised if it hits the 90s°F (around 32°C) on some days! If you're not used to the heat, it can be uncomfortable. As you plan for things to do in Montreal, make sure you're prepared for the weather.
Breezy clothes like t-shirts, summer dresses, shorts and comfy shoes are must-haves. But, if you don't want to come home looking like a lobster or to be squinting your way through your trip, don't forget your hat and sunglasses.
Montreal weather can be unpredictable in the summer, so bring your raincoat or umbrella just in case. And when the sun goes down, things can get chilly, so a jacket or sweater can keep you cozy.
If you're planning on going on a whale watching tour, make sure to pack a freezer jacket, your cap and your sunglasses. It can get pretty nippy out there in the middle of the ocean.
If you can, plan to do indoor activities or stay in the shade during the hottest part of the day: whether it's under a tree, an umbrella or a cool spot indoors. Maybe even treat yourself to some ice-cold lemonade or an ice cream cone. Yum!
But if you can't avoid being in the sun, sunscreen is your best friend, and make sure it's at least SPF 50. And don't forget to reapply every few hours, especially if you've been sweating.
---
Useful Transportation Apps to Make Your Travels a Breeze
Transit – Bus & Subway Times
This app will help you navigate transportation routes and schedules, while also updating you on real-time bus and train arrivals. No more waiting around at the bus stop wondering when your ride will show up!
An alternative option to the Transit app is Citymapper. Like Transit, it gives you live updates on public transport departure and arrival times and notifies you of any disruptions. So, you can avoid the stress of rushing to catch your ride.
MetroMap Montreal – Subway map
This is a straightforward map that you can use to do station research, even without an internet connection.
You can use Uber to get anywhere in the city and even schedule rides in advance. There are always several Uber cars near your location in Montreal, so you won't have to wait long for your ride, except maybe in the late night-early morning hours.
Get an OPUS card
Finally, we highly recommend getting an OPUS card. You can use it as a ticket by scanning it on a metro turnstile card reader. It's easy to reload with multiple trips or a monthly pass online or at station vending machines. So, don't forget to get your OPUS card to make your travels around Montreal a breeze!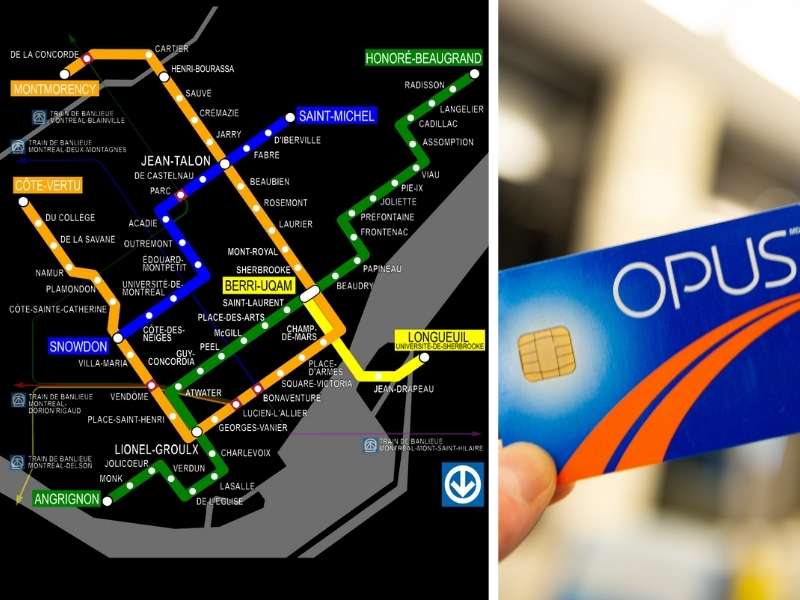 ---
Wrap-Up: An Unforgettable Summer Adventure in Montreal
Montreal in summer is an exciting city full of endless activities to keep you entertained. With a plethora of things to do in Montreal, you'll never have a dull moment.
You can explore the vast Montreal Botanical Garden, try delicious comfort food like poutine and immerse yourself in the vibrant mural scene. There's truly something for everyone in Montreal.
If you're looking for a peaceful escape, Parc du Mont-Royal is the perfect place to find your inner peace. Or, if you want to celebrate diversity, head to The Village.
Don't forget to check out the festivals, visit the historic district of Old Montreal and catch the breath-taking fireworks display on the Jacques Cartier Bridge. For a unique experience, you can even go whale watching or explore Barbie's world of fashion.
Montreal's unique blend of French and English language and culture adds to the city's charm, creating an unforgettable experience.