In 2015, before we went on our summer vacation to Chiang Mai in Thailand, I told one of my ex-colleagues that we were planning this trip. At that moment, she told me about cooking classes in Chiang Mai, and she strongly recommended that we take one.
She also told me how much her boyfriend hates cooking; when they were busy with this class, though, she said that he really enjoyed himself. They both had fun during this class while learning something new, so adding it on our trip's to-do list was a no-brainer.
Where did we have our cooking class in Chiang Mai?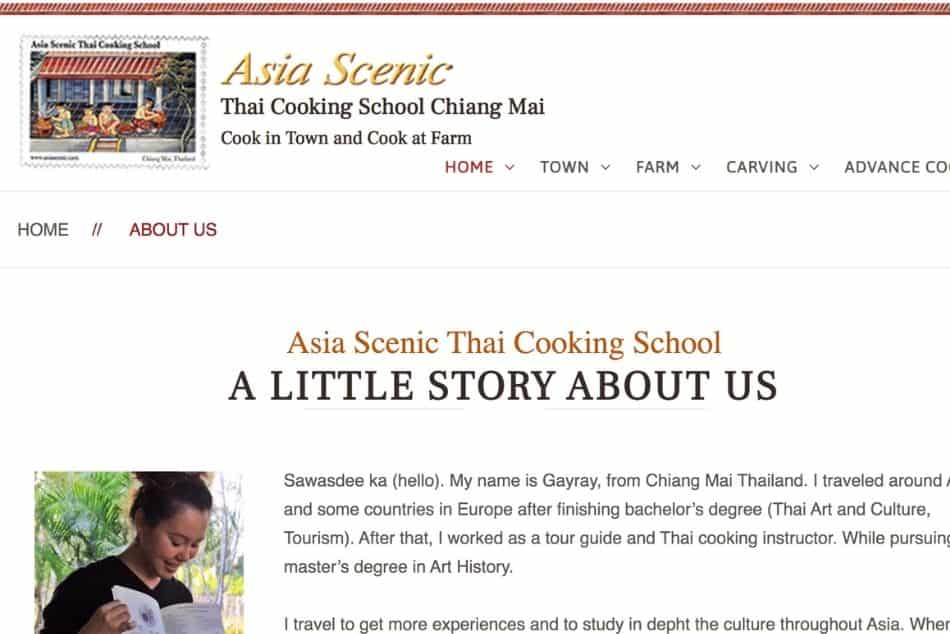 As part of our preparations, we searched online for a cooking class in Chiang Mai. After looking around, we chose to book one at the Asia Scenic Cooking School as it's rated on Trip Advisor as one of the top three cooking schools in Chiang Mai.
Another factor that influenced our choice was that it is still managed by the same Thai family who founded it. On the website, we learned that its owner, Gayray, is an experienced teacher who has a master's in art history and a degree in Thai art, culture, and tourism. Gayray is a traveler too, so she understands the needs of travelers from firsthand experience.
To get a cooking class at the Asia Scenic Thai Cooking School, you need to go to 31 Rachadumneon Soi 5 when you're in the city. Getting to this cooking school on foot will take you a few minutes if you're leaving from the Tha Pae Gate.
Thai food generally consists of curries (gaeng), spicy salads (yam), boiled dishes (tom) and Chinese cuisine. The food is highly inspired by deep-fried foods and steamed dishes. Asia Scenic Cooking School will teach you how to cook dishes from almost every category of Thai cuisine.
Some of the dishes that you can learn to prepare are found on the list of the top 50 best foods on earth, published in 2017. CNN Travel compiled this list after they ran an online poll of 35,000 participants.
The general vibe of a cooking class at the Asia Scenic Thai Cooking School was very homely, especially because of the décor in the school. The cooking school is an extension of Gayray's family home.
How did we book our cooking class in Chiang Mai?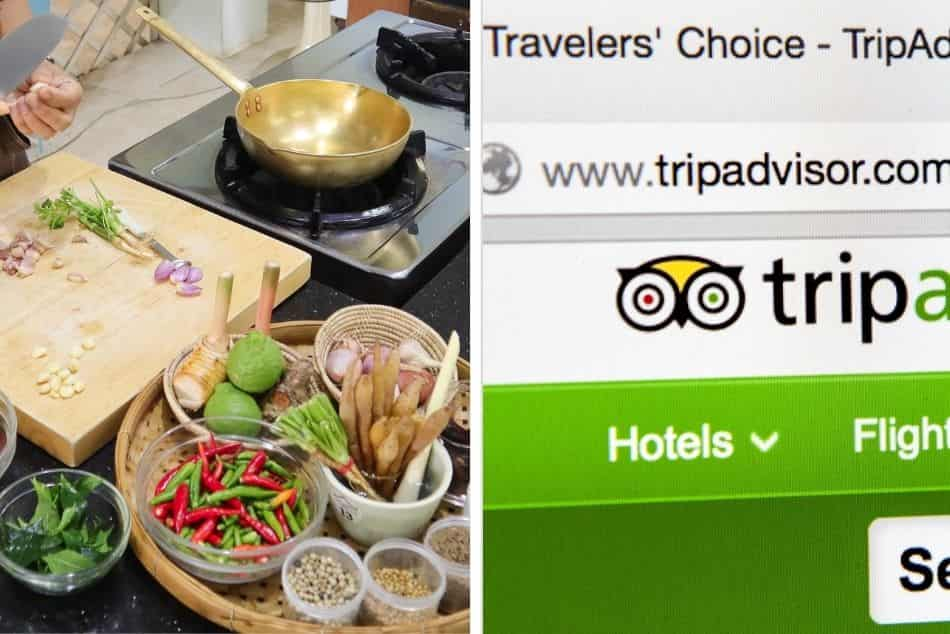 You can book a class at the Asia Scenic Cooking School online, by email or by calling the school directly. When we got to Chiang Mai, we chose to call the owners directly using a phone that had a prepaid SIM card; this way, we were sure that our spots would be reserved correctly. If your SIM card can't make phone calls in Thailand, but it has internet connectivity, you can still book a class online using Skype. A Skype subscription will allow you to make international calls, and it won't cost you more than $5 USD.
Our itinerary for the cooking class in Chiang Mai:
We chose to take a full-day course that would teach us how to make seven dishes; it ran from 09:00 to 15:00. Since we were going to have the class on their premises in the town, and not on the farm, we all had to pay about 1,000 Thai Baht.
School pick- up service: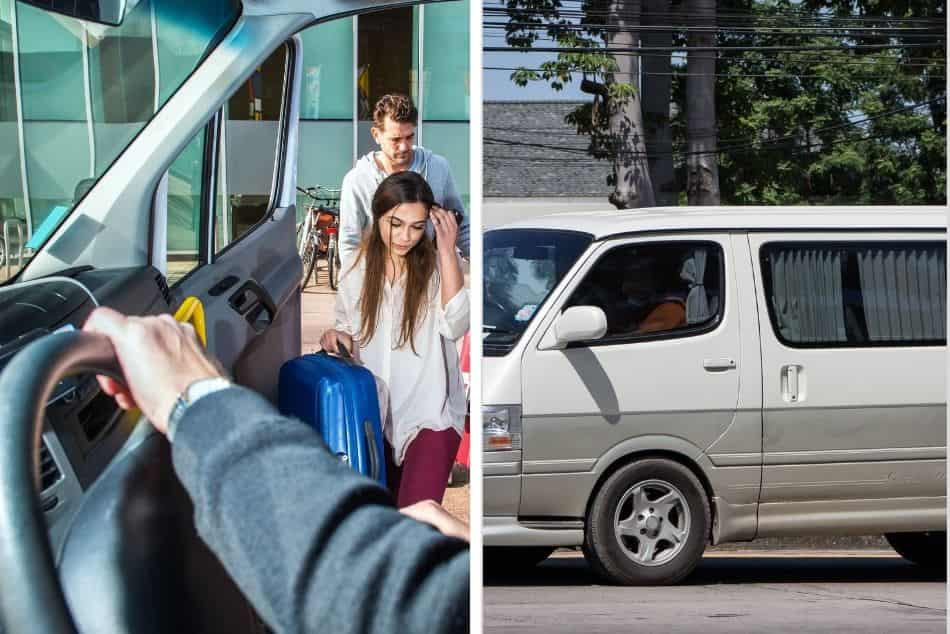 The members of the Asia Scenic Thai Cooking School promised to pick us up at our hotel, which was near Night Bazaar in the center of the city. While we were waiting outside the entrance of our hotel, we saw the minivan that they had arranged for us to get us there. The pick-up service went very smoothly.
Check in:
When we arrived at the school, we checked in. They asked for our names so that they could see what courses we were registered to take. There were other students with us, huddled around a teacher to verify which courses they were going to take.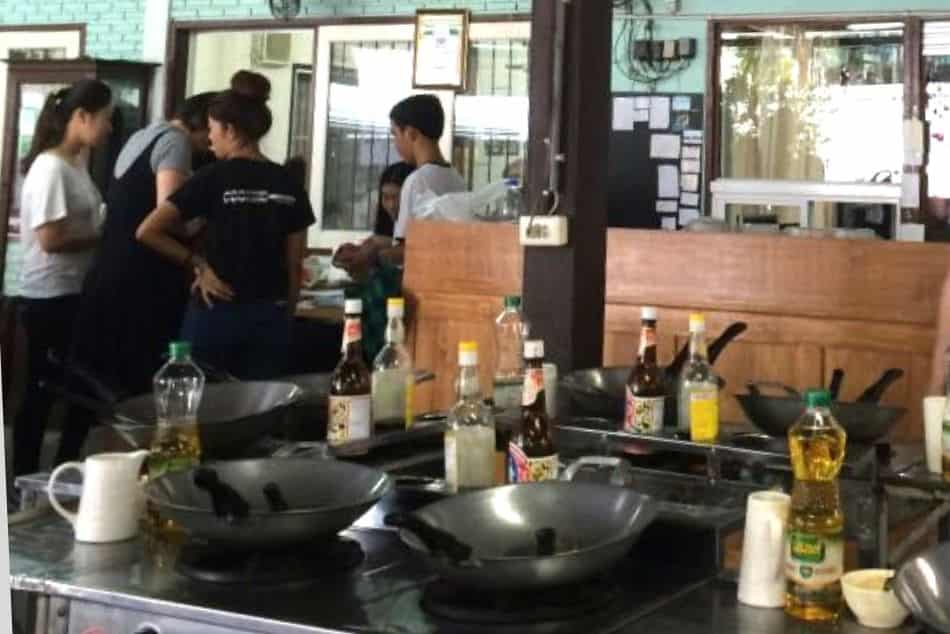 During this process, I saw that while the cooking school looked very homely, it also had a professional touch and feel to it. The place where the classes were going to take place had lighting and a fan, even though this area was in a semi-open-air environment.
Dish selection & the organic garden tour:
When we got assigned to our class, we had to choose which dishes we wanted to cook. There were seven categories to choose from. The categories for this class were as follows: stir-fried dishes, soups, curries, curry pastes, salads, desserts and appetizers.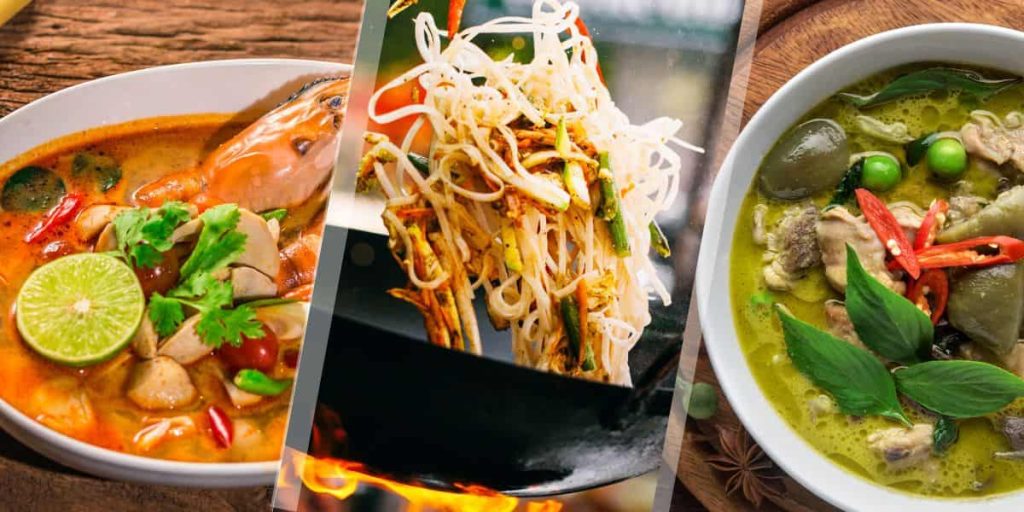 After choosing our dishes, we were taught about the school's backyard, which was an organic garden. She referred to this area as the organic kitchen garden. She also introduced us to different types of Thai herbs, such as Thai basil, Kaffir lime, lemongrass and turmeric, along with many others. We were allowed to taste these herbs on the spot as they were being introduced to us!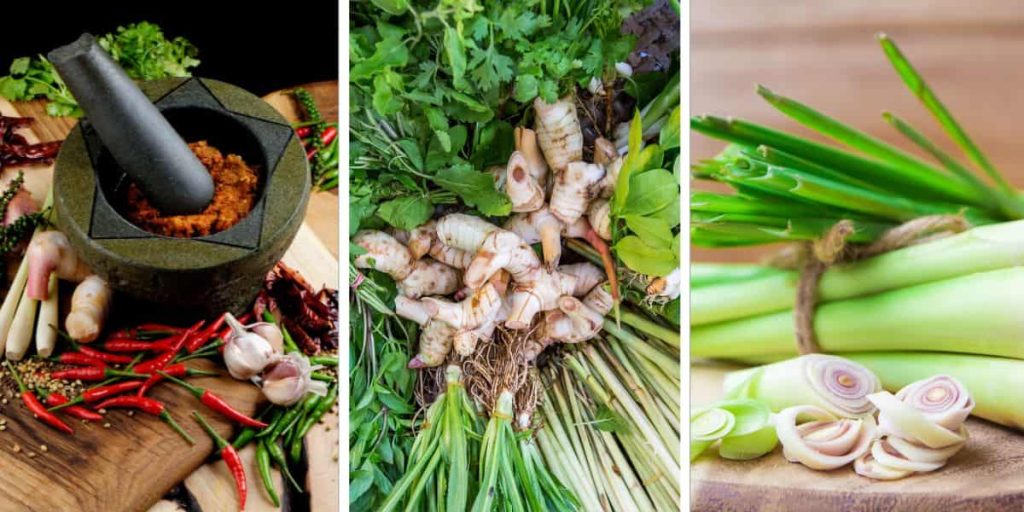 Local market tour: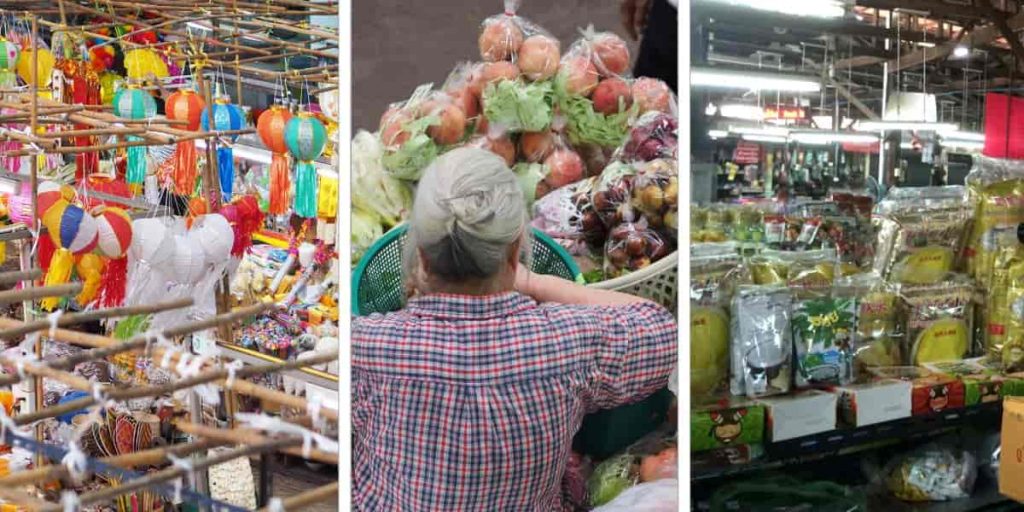 After showing us around the organic garden, our teacher accompanied us to the local market as it was close to the premises of our cooking class in Chiang Mai. The market was about 10 minutes away by foot.
At the market, we were presented with different kinds of rice, sachets of tom yum soup ingredients, fish sauces and sachets of ready-to-use curry powders/pastes. After being introduced to these ingredients, we stayed at the market for a short time because we only had 10-15 minutes to look around.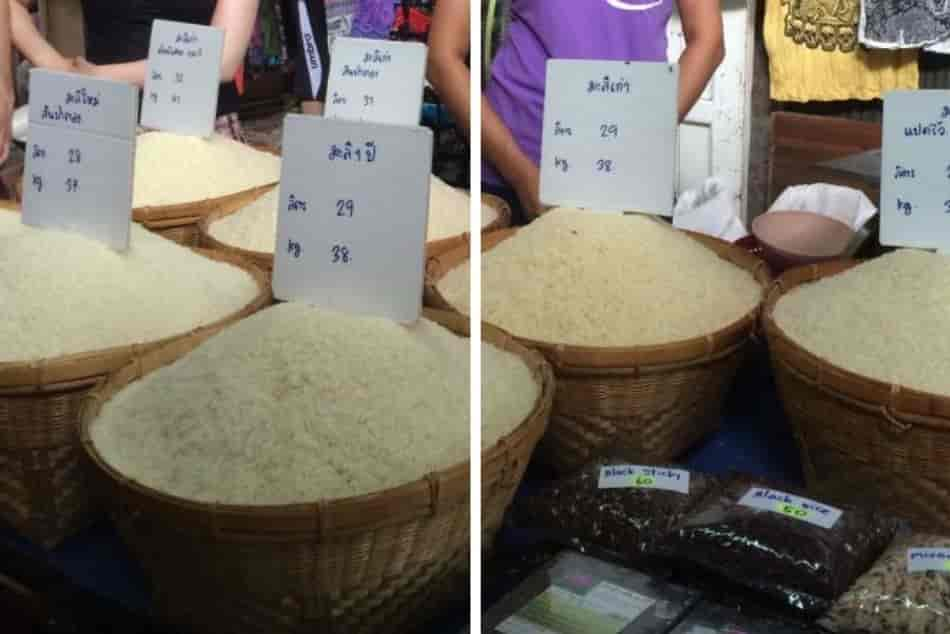 The market was authentic and lively, but since we only had a few minutes to check it out, we decided to come back later. What I liked about the market was that there were people selling items other than just food. For example, there were also some cool T-shirts on display at the market that I wanted to buy as souvenirs later in the day.
Cookbook & cooking tools:
When our trip to the market was over, we went back to the cooking school. When we arrived, everyone received a cookbook that they could keep as a souvenir from the class. Everyone in the class also received a cutting board, an apron, and a cookware set; these items were going to be used to make our chosen dishes.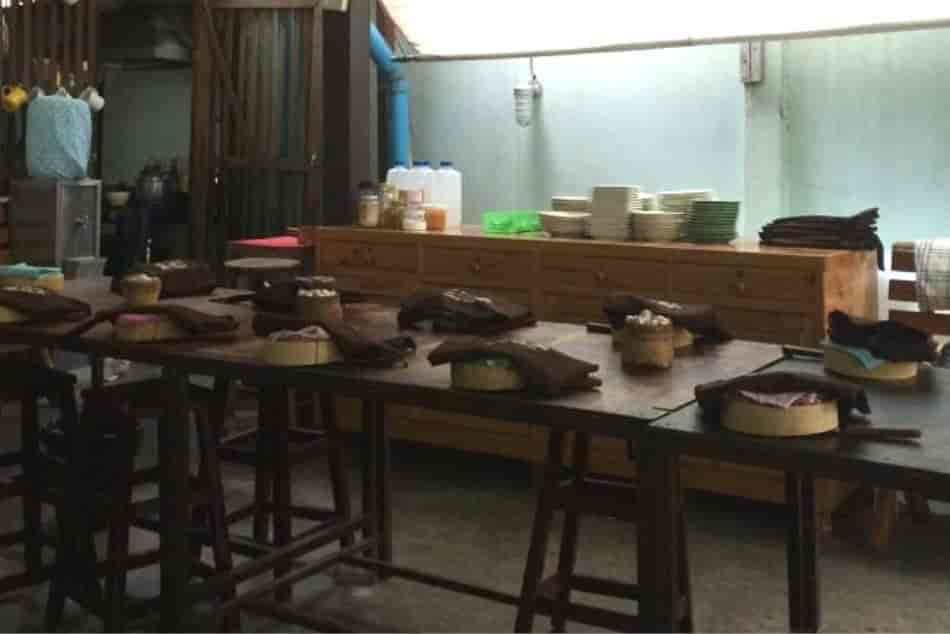 The class had 10 people, and since we were international students, the teacher spoke English to the class.
Making sticky rice: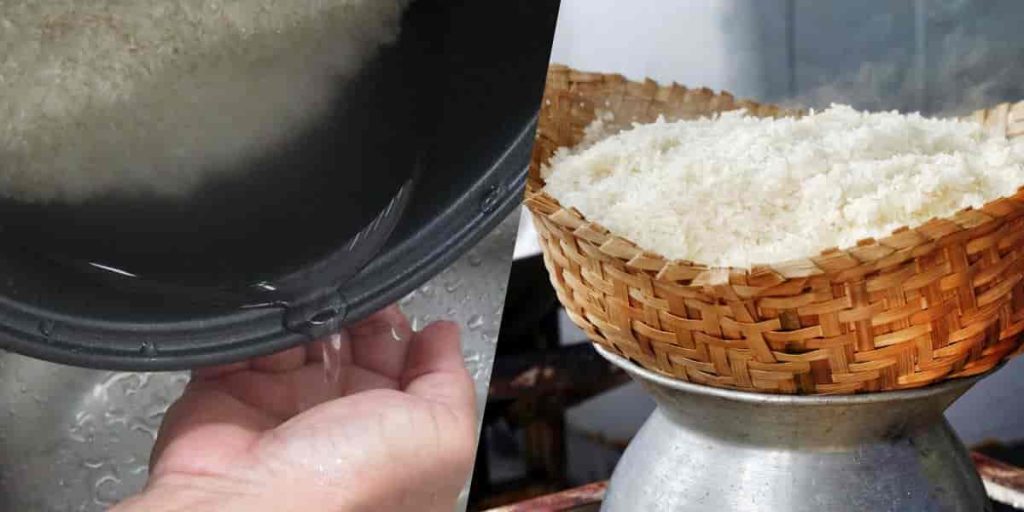 After we got back to the cooking school, the first thing that we were taught was how to make sticky rice. Before we started to cook anything, the teacher told us that the rice had to soak for about 4 to 6 hours before it was ready to be used in our dishes. Luckily, she'd already soaked the rice so that we could use it right away. She just strained it and let it steam for about 20 minutes.
Stir fried dishes & spring rolls:
As we were letting the rice steam, we were taught how to make stir-fried noodles, which are called pad Thai and pad see ew (Thai stir-fried noodles). The big secret that she shared with us was the 1-2-3 formula of making the sauce for Thai stir-fried noodles. This formula indicates how the ingredients need to be divided and measured; it means that the sauce is comprised of one spoon of sugar, two spoons of fish sauce, and three spoons of oyster sauce.
Pad Thai is the most popular stir-fried noodle dish in Thailand; it is largely popular as a street food, but also in restaurants. It is a rice noodle dish that almost always has chicken, tofu, shrimp, peanuts, bean sprouts, scrambled eggs and other fresh vegetables.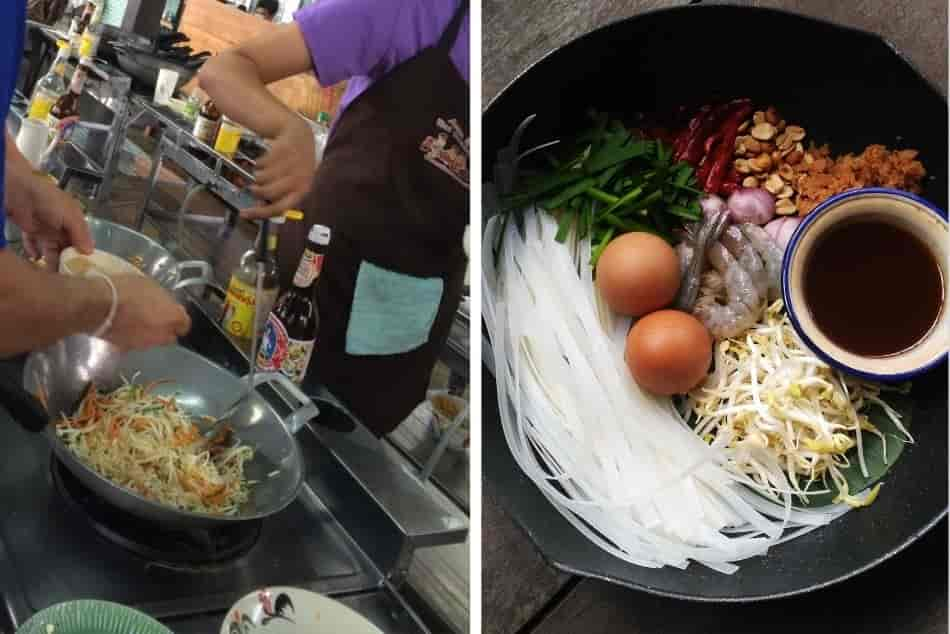 Pad see ew is also a stir-fried noodle dish, and it is as popular as pad Thai; the only difference can be found in the taste. Pad Thai is sweeter and nuttier, while this one is a bit saltier because it uses soy sauce to give it color and taste. Also, pad Thai is cooked Thai style, while pad see ew is cooked Chinese style; along with soy sauce, its main ingredients include eggs, Chinese broccoli and chicken.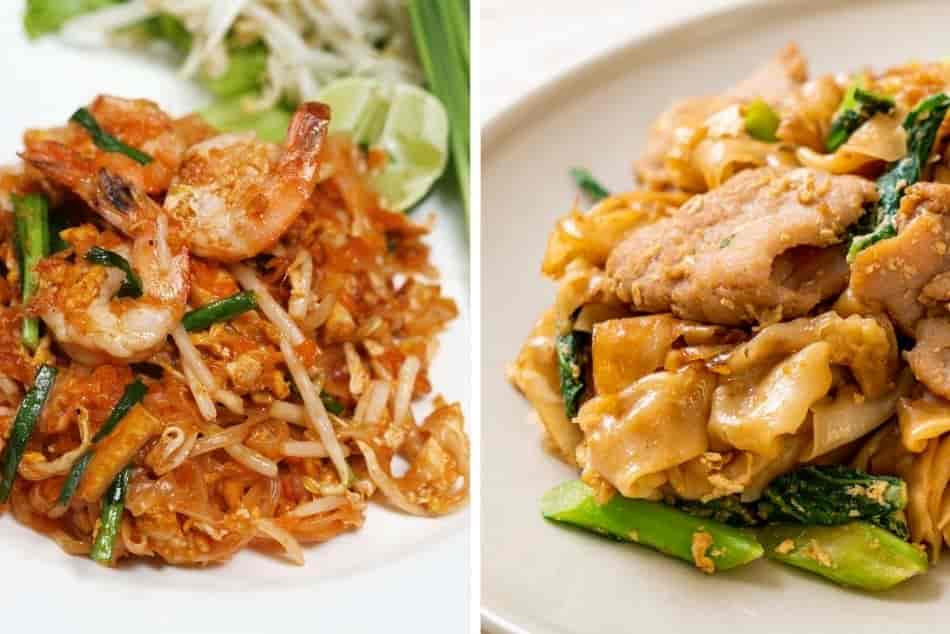 We took a break after cooking the stir-fried noodles as we sat on one of the wooden benches outside to eat what we had just cooked in the class.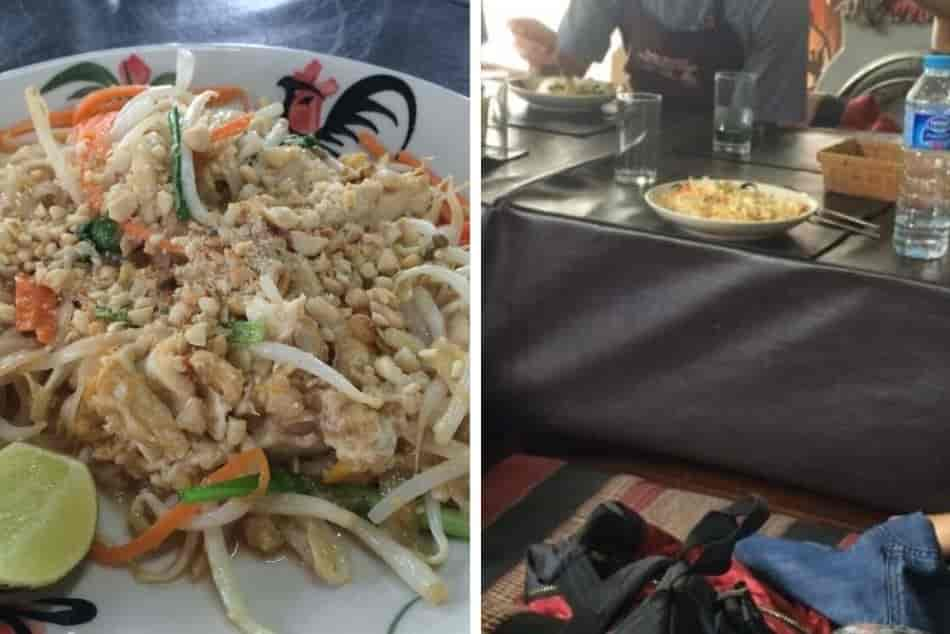 Next, the teacher showed us how to prepare the ingredients of a spring roll, which are appetizers in Thai cuisine. She also taught us how to wrap the filler ingredients in the pastry before showing us how to deep fry the rolls.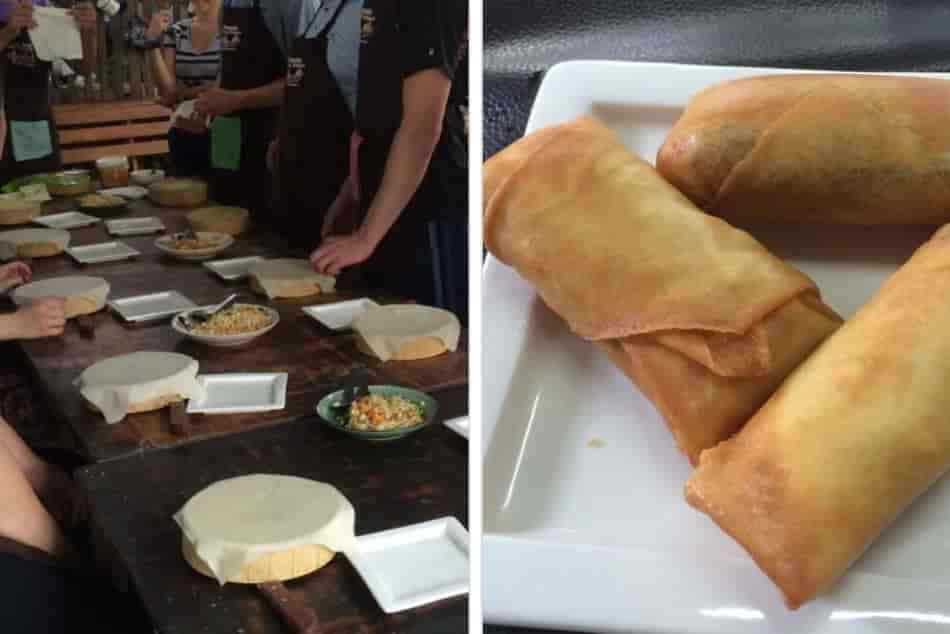 Curry pastes:
After making our spring rolls, we had to roll our sleeves up and prepare ourselves to use our muscles; we were going to make our own curry pastes.
We had to make four curry pastes: khaw soi, Panang, red and green curry pastes. We had to make them using a mortar and pestle. Doing this was fun because we had to exert ourselves to turn the ingredients into a paste.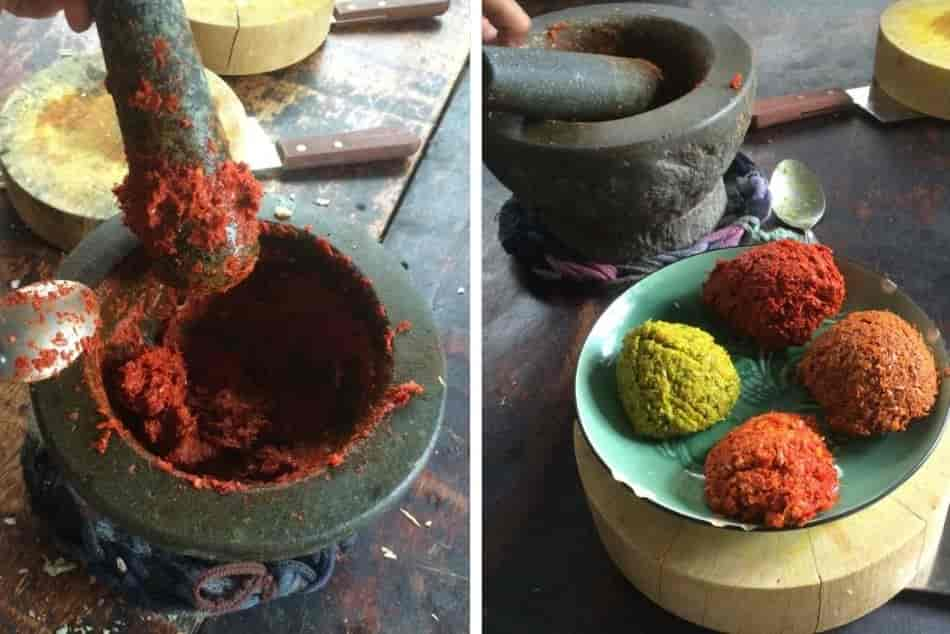 Even though this was fun, it was tiring. We ended up letting others in the group help us make our pastes; each person took a turn crushing the ingredients.
Curry dishes:
When our curry pastes were ready, we had to cook our dishes with them.
Some of the curry dishes that we made included the Chiang Mai curry noodle soup and an eggplant dish, which required the green curry paste.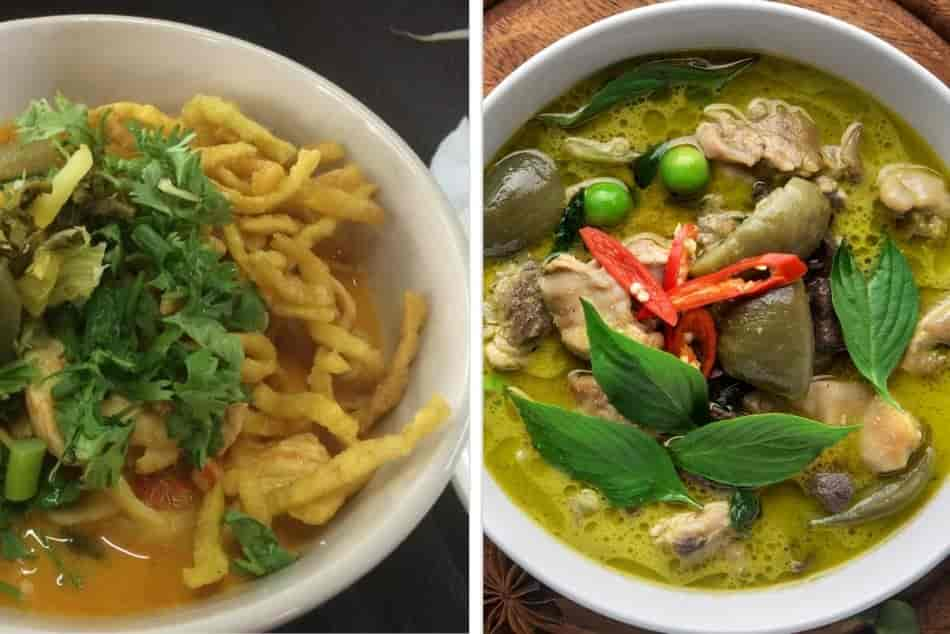 I liked the fact that this cooking class was also teaching us how to make and use our own seasonings.
Dessert
After working ourselves to the bone to make the curry pastes, our teacher had an easier task for us; we would get the opportunity to finally make dessert!
The two desserts that we were going to make both had deep-fried bananas, but one was served with coconut ice cream and fresh mango slices, and the other was served with sticky rice and coconut milk. Both the desserts are very popular all over Thailand, and they are even popular in neighboring countries. You will find them both in the restaurants and on street food carts. Taste wise, believe me, you won't feel satiated after just one serving.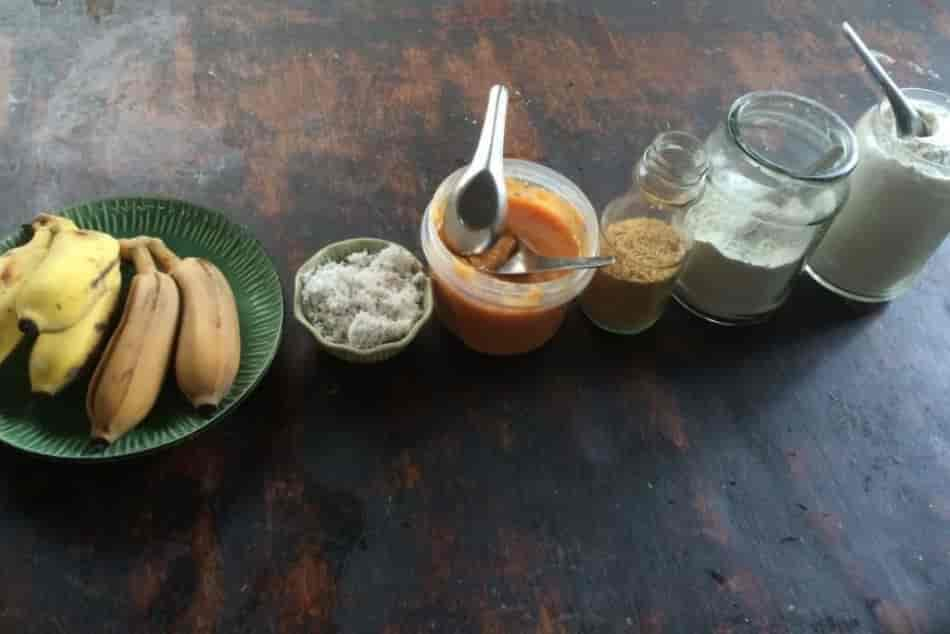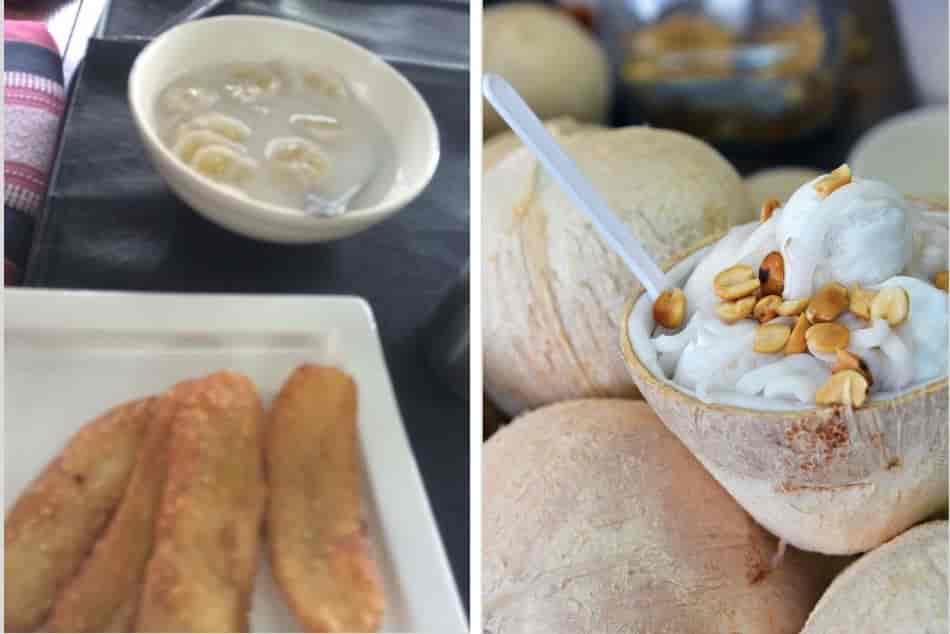 Remember the batch of sticky rice that the teacher prepared for us at the start of this class? She brought it back to us now, and she asked one of the male students to help her stir and mix the rice gently with some palm sugar, salt and coconut cream. The rice was very sticky, and it was fun to see him sweating while trying to stir and mix it.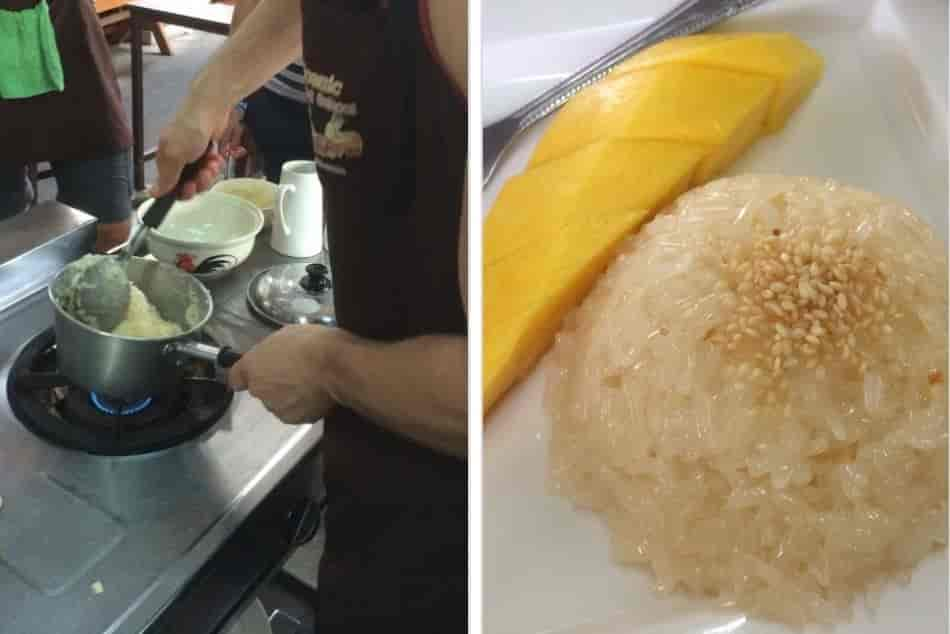 Salad and soup
After making our dessert, we got to make salads and soups.
For the salads, we chose to make a papaya salad, a spicy chicken salad and a glass noodle salad. Papaya salad is a great healthy side dish, and can woo your guests during a home party in summer.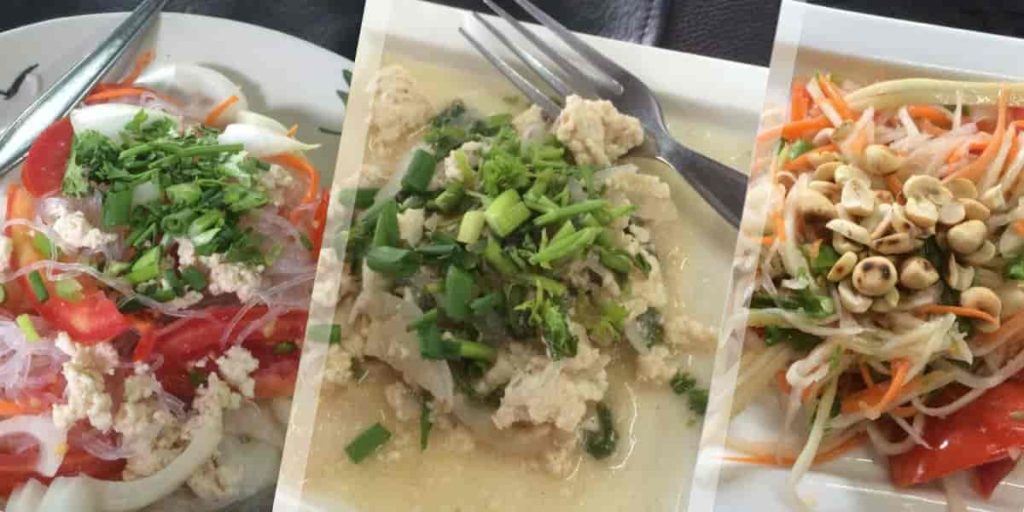 For the soups, we got to make tom yum koong, tom sab and coconut milk soup. Tom yum koong (also known as tom yum goong) is a spicy and sour soup that is prepared with spices, seafood (usually shrimps/prawns) and fresh herbs; these ingredients make it a very healthy dish.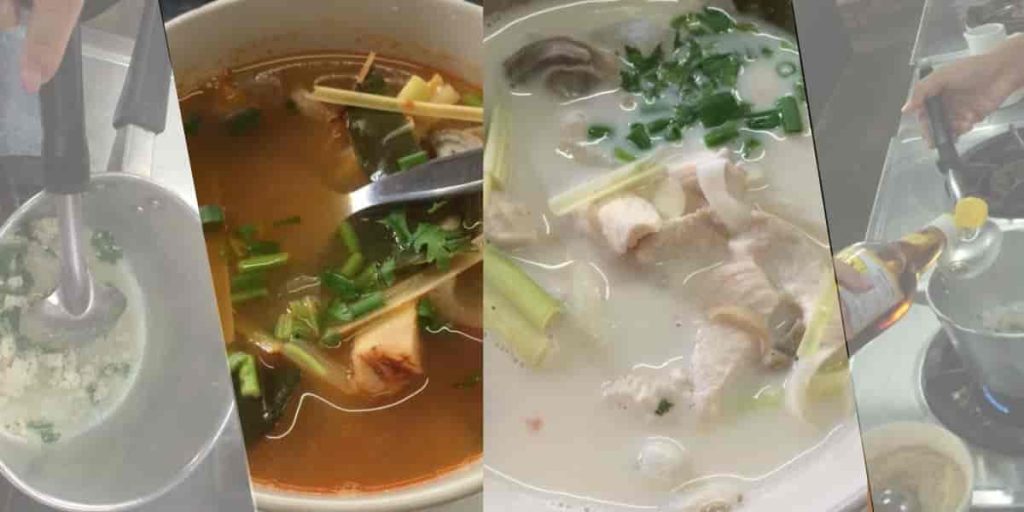 Tom sab is a broth-based clear soup that uses classic Thai herbs, such as kaffir lime, lemongrass and galangal. These aromatic herbs, combined with either beef or pork ribs, make it delicious.
An entirely hands-on experience:
For every savoury dish that we made in this cooking class in Chiang mai, the teacher gave us vegetables, meat and herbs. She didn't chop these ingredients for us because we all had chopping boards. Everyone had to put their tools to good use to chop their ingredients.
Seeing how people chopped their ingredients was interesting because there was always that person who would chop his/her ingredients into very large pieces, and some people cut their ingredients into really awkward shapes of various sizes. There were a few people who managed to chop their ingredients perfectly, but most of us were either terrible or mediocre.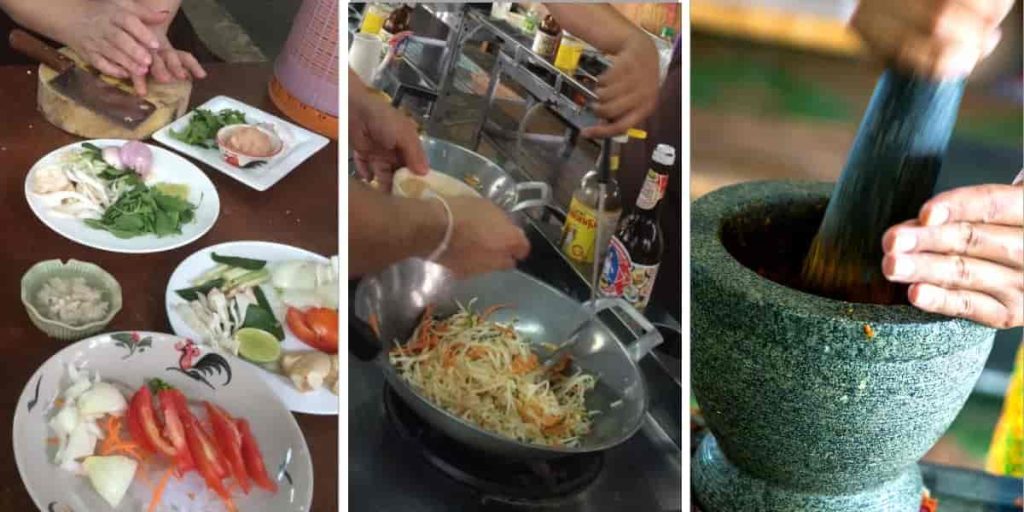 Seeing various levels of kitchen skills was funny, but our teacher didn't leave us to our own devices completely; thankfully, she helped us if we struggled with anything during the whole cooking process.
Finally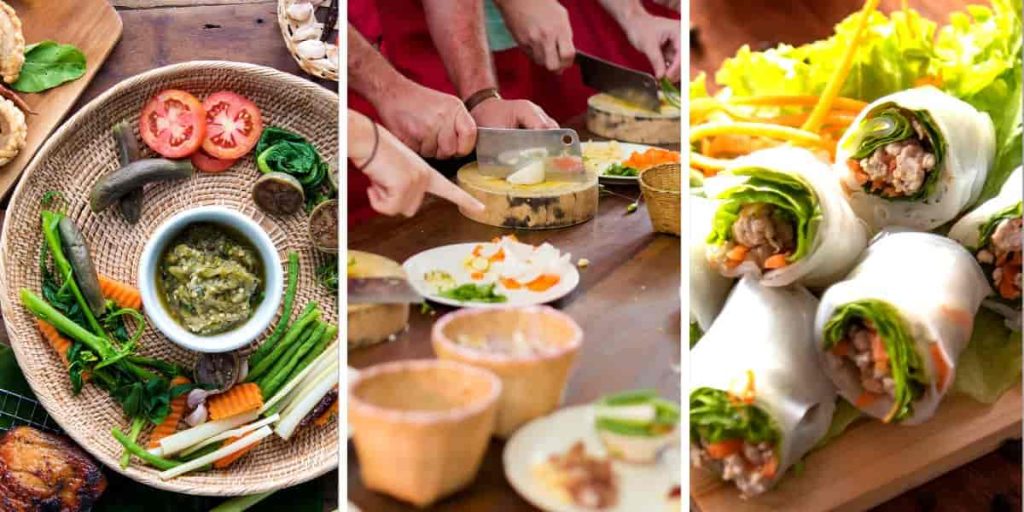 I've taken cooking classes in France, Bali and Taiwan, but I think this cooking class in Chiang Mai was the best one that I've done thus far.
I love how the school taught us. They didn't just make us watch the teacher or a few other students cook; everyone received a hands-on cooking experience.
I took this class with my family, and even my mom- who doesn't understand English- really enjoyed this class. Sometimes, they now cook some of the dishes that they learned to cook in Chiang Mai at home in Hong Kong, and I truly believe that cooking is an international language that can be taken anywhere.